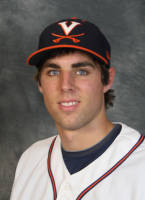 Chris Taylor, Junior, Shortstop, Virginia
Overview:
Chris Taylor is a shortstop with a strong arm and he can be moved around the field to play either third as well as in the outfield. He has a very solid arm for a shortstop, but can use another year in college to help develop the batting portion of his game. He had 41 strike outs and 77 hits in 256 at bats for last season. His OBP for 2011 was .378 and he is also fast enough to get a stolen base. He had 10 in the 2011 season.
Draft Projection:
Taylor can go in the top three rounds of this draft and be a good young impact player for a team needing a shortstop or a third baseman with a strong arm. He's not a well know player, so he can most likely go past three rounds ending up as a valuable steal in the draft.
See All MLB Draft Profiles and Rankings