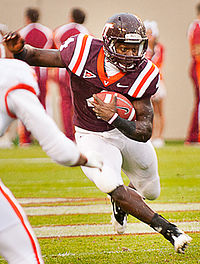 David Wilson, Junior, Running Back, Virginia Tech
Overview:
As strict followers of internet memes are fully aware, David Wilson is a BOUSE. Following in the footsteps of recent Virginia Tech running backs Ryan Williams and Darren Evans by loading up on yardage and fleeing school, Wilson will be entering the NFL draft at what appears to be his peak value. In 2011, he set the school record by rushing for 1,709 yards, dwarfing his previous career totals up to that point. Perhaps even more importantly than the numbers though, Wilson was the focal point of Tech's entire offense, something scouts were not sure he would be able to do.
He carried the ball over 20 times per game for close to 300 totes on the season and still ended with a yards per carry average of 5.9. If that was not enough evidence for NFL scouts that David Wilson can be an every down back at the next level, I don't know what is.
Final Projection:
When looking at the entire package, David Wilson certainly has some faults. He is not much of a receiver out of the backfield, never catching more than four passes in any game this season. At just 5'10", 205 pounds, he is also on the small side, looking more like a CJ Spiller type than a Mark Ingram. With that said, his running ability is superb, especially after contact; his quickness and open field speed are also NFL caliber. Wilson should be the second running back off the board in April's draft, perhaps somewhere near the top of round two.
See All NFL Draft Profiles and Rankings