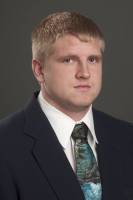 Shea McClellin, Senior, Defensive End, Boise State
Overview:
McClellin broke into the college ranks with a great junior season, where he recorded 9.5 sacks. He followed up that performance with a good senior campaign, where he racked up seven sacks, forced a fumble, and notched 30 tackles. He capped it off with a sensational bowl victory, where he had four tackles and a sack.
Final Projection:
McClellin had a great collegiate career and is a mid round prospect for the next level. He is a pass rush specialist who also has shown an ability to tackle, which means a move to outside backer is not out of the question. He is undersized for the defensive line, but a strong motor and work ethic may be able to compensate for that. As an outside linebacker he has great size, but will need time to adjust to the position. He should likely hear his name in the third or the fourth round.
4/14/2012 Update by Matt McDonnell:
McClellin had an excellent workout and has been flying up draft boards. His ox like strength and high motor make him attractive to many teams. He is a gym rat with excellent character and a strong work ethic. He was a very versatile player in college, playing a multitude of positions. He saw snaps at end, outside linebacker, middle linebacker and even as a nickel back. His eagerness to play and his willingness to play wherever and do whatever is asked of him makes him an intriguing prospect. Yet, as there are many extremely gifted athletes out there, McClellin is still overshadowed by some. He could go as high as the first round, or as late as the second round.
See All NFL Draft Profiles and Rankings