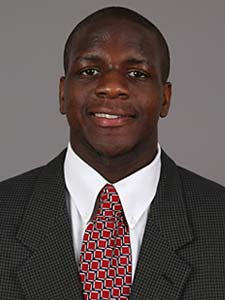 Mohamed Sanu, Junior, Wide Receiver, Rutgers
Overview:
Mohamed Sanu had an outstanding junior season. He reeled in 115 balls, totaled 1,206 yards, and scored seven times. He has good speed and great size for the next level. He has steady hands and can also bring down the acrobatic catch. In his sophomore season he completed three passing scores, rushed for 331 yards, was on the receiving end of 418 yards, and even punted the ball two times, demonstrating his elite athleticism.
Final Projection:
Sanu has great size and is an excellent athlete. There is nothing on the field that he cannot do. He should hear his name called somewhere in the second round, and the team that selects him will get a versatile, do-it-all weapon that is coveted by elite NFL offenses.
3/17/12 Update:
NFL teams were intrigued by Sanu, but he ran really, really slow at the NFL Combine. He is still an interesting prospect, but he now will not be able to make it into the first round, which is already bloated with quite a few receivers. Sanu will be a good value in the second round, but do not be too surprised if he falls back into the late part of the round.
See All NFL Draft Profiles and Rankings