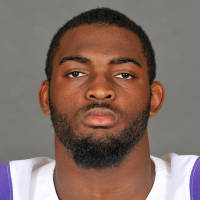 Michael Brockers, Sophomore, Defensive Tackle, LSU
Overview:
Michael Brockers, a redshirt sophomore, had an outstanding season. He has outstanding size, standing 6'6 and weighing 306 pounds. He recorded 9.5 tackles for a loss, third best on the talented Tigers squad. He gets a great push and gains leverage quickly. He is able to eat up double teams and fight off of them effectively. He earned Second Team All-SEC honors in 2011. He is a great athlete and has an NFL body, so he should transition well to the next level.
Final Projection:
Brockers has great size and shows an ability to be disruptive with an interior presence, which is highly coveted in the National Football League. He has the size to be a successful nose tackle in both the 3-4 scheme and the 4-3 defensive schemes. He is still learning the game of football, and only has two years of on field collegiate experience, but has a ton of upside. At this point he looks to be a fringe first round pick.
3/17/12 Update:
Brockers showed up at the NFL Combine bigger than ever. He tilted the scales at 332 pounds and the scouts started to get excited. But then Brockers had to play football and he looked slow and pretty unathletic. However, prior to the combine, teams were falling in love with Brockers and his stock was soaring. But he went back down a bit after the disappointment in Indianapolis. Still, Brockers is a first round talent and it would be a surprise if he fell out of the first round, although his pro day will go a long way in determining if he is a top ten pick or a borderline first round prospect.
See All NFL Draft Profiles and Rankings