Few bands in America have as much tradition as the Ohio University Marching 110. Those who played in the band 30 or 40 years ago would notice very little difference between their band the band that most recently graced the smurf turf in Boise, Idaho for the Famous Idaho Potato Bowl. Some of the songs may be different, but the Marching 110 still play the traditional favorites of the Ohio University Marching Band since the modern inception in 1967.
College Sports Madness Band of the Week - Ohio University
Your Name: Seth Winegardner
Your Relation to the Band: Field Commander
Band Name: Ohio University Marching 110
Number of Members: 230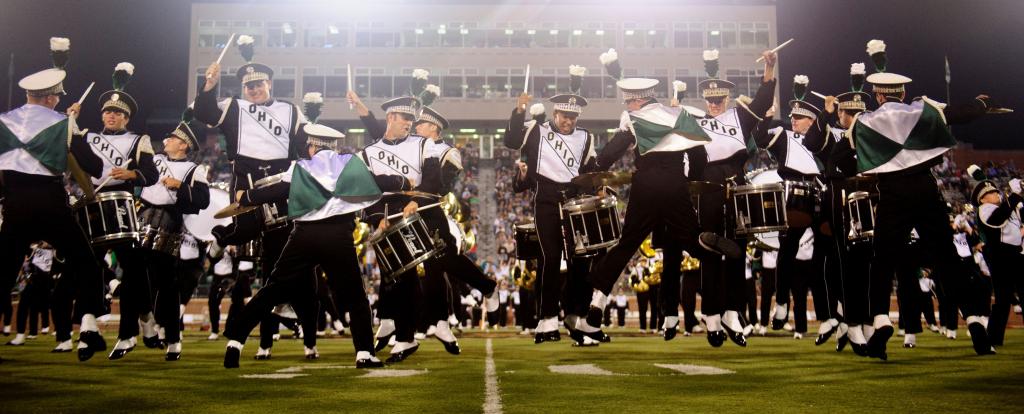 What is the most unique song you have ever played?
After all of the attention we have gotten in the past few months, I would have to say that LMFAO's Party Rock Anthem has to be the most unique song I have ever played. We try to play current hits, along with old favorites such as Van Halen and Led Zeppelin throughout the year. Party Rock has given us a new amount of media attention we don't usually receive and is greatly appreciated.
How much preparation goes into your performance?
The band practices five days a week for an hour and a half. We also have individual section rehearsals several times throughout the week along with an hour to two hour dance rehearsal one night each week. Typically we learn the dance 2-3 days before our performance and each section and squad practices individually outside of rehearsal to make sure the dance is perfect by Saturday's game.
What interesting or unique traditions does your band have?
The Marching 110 prides itself in continuing traditions set decades ago. All members have a 110 band jacket that hasn't changed in style since it was introduced. The uniform has not changed since its introduction since 1967 as well. The marching audition has not changed since the band's creation. We also have a unique family of alumni that return once a year on homecoming to play again with the current 110 at halftime. The 300-400 piece alumni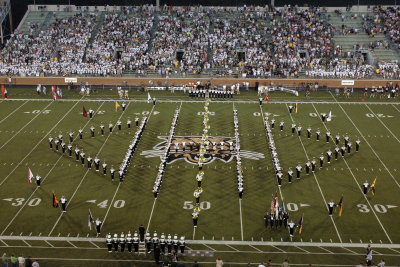 band also performs in a post-game show where we play old favorites like Long Train Runnin' and Cheer. These songs have been performed by the band for decades. It's a great feeling to know you are playing next to a 30 year alumnus who performed the exact same arrangement in the same uniform decades before you.
The 110 is also known across the country for its unique, high energy style that includes a nontraditional high step and choreographed dances. The style and energy has not changed since director Gene Thrailkill introduced it in 1967. Each year members strive to live up to our motto of "Better Than the Best Ever", a motto that has stuck since the band's creation.
What charitable causes does your band support?
Members of the 110 have performed at multiple charitable events. For example, this year members performed for the Child Development Center in Athens, Ohio. Members paraded in and performed several songs. After the performance they spent time with the children and let them examine and play their instruments. As the largest and most visible student organization on campus, it is our responsibility to represent Ohio University with the utmost, class, character and generosity the university is known for.