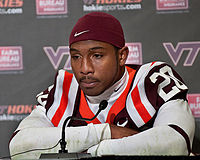 Jayron Hosely, Junior, Defensive back, Virginia Tech
Overview:
Jayron Hosley had nine interceptions in his first year as a starter during his sophomore season. His production dipped a little bit his junior year, only picking off three passes (prior to the bowl game), but this is easily explained because opponents simply do not want to throw the ball in his direction. He was a second team all ACC player this year and recorded 59 tackles. He is a freak of an athlete (check him out on sports science (http://espn.go.com/video/clip?id=6901616). He is a little small in weight, so adding some muscle will be important to him. In coverage, no one questions his ability, but when it comes to run support there are some concerns. However, overall Hosley has the size, speed, instincts, reactions, and athletic ability to be successful corner at the next level.
Final Projection:
Hosley has a chance to be drafted in the first round, but could end up being a high second round selection, as this is a loaded draft class for defensive players. He is a playmaker who is dangerous in the return game as well, so teams get an added bonus when they select this Virginia Tech alumni.
See All NFL Draft Profiles and Rankings