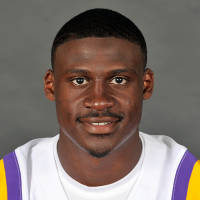 Morris Claiborne, Junior, Defensive back, LSU
Overview:
Claiborne has been a little overshadowed by fellow stud Tyrann Mathieu, at least on a national stage. However, Mathieu may have earned a Heisman finalist consideration but Claiborne has the NFL scouts drooling. He is the reason that Mathieu and the rest of the LSU defense were able to create so much havoc, and it shows in all his accolades. Claiborne is the most decorated corner in this year's draft. He is a first team All-SEC selection, the 2011 South Eastern Conference defensive player of the year, the 2011 Thorpe award winner, and a 2011 Nagurski award finalist. This year, before the championship game, he has notched six interceptions and 46 tackles. The NFL scouts see a reincarnation of the fifth pick in last year's draft and former teammate, Patrick Peterson. Claiborne has all the tools to be an excellent corner in the NFL. He has the size and speed to be a shutdown corner, and the athletic ability to be an elite playmaker at the next level. He has proven he can be a dangerous return man as well.
Final Projection:
There is absolutely no doubt that Claiborne will hear his name called early in this year's draft. He is a sure-fire top 10 selection, and in all likelihood will be a top 5 pick. Claiborne has proven he can match up with any receiver in the nation and will excel at the next level as well.
3/17/12 Update:
If there was any doubt lingering about Claiborne, he put it to rest during the NFL Combine. Claiborne did not blow away all of the other cornerbacks in every aspect of the combine, but he did not do anything poorly and he does not have any off-field issues, like some of the other top corners. Claiborne looks like a safe top five selection and it would take something very surprising at LSU's March 22nd pro day to change that.
See All NFL Draft Profiles and Rankings