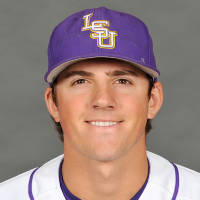 Kevin Gausman, Sophomore, Pitcher, LSU

Overview:
Kevin Gausman is one of the best pitchers in college. He has a natural feel to his pitching motion that has turned his fastball into one of the best around. At 6-4 and 185 pounds, Gausman is a big, athletic hurler who can, on occasion, reach the 100 miles per hour plateau. In 2011 Gausman made his LSU debut and had a pretty good season. He started 14 games and struck out 86 batters in just under 90 innings. The best news for Gausman and LSU fans is how he ended his freshman campaign in 2011. He finished with four of his best outings and will carry that into 2012.
Final Projection:
Gausman is eligible for the 2012 Major League Baseball draft as a sophomore and will likely be a top ten selection. With such a dominating fastball, it is the rest of his pitches that need some help. Gausman has been getting better during his time with the Tigers, but he will have to find another go-to-pitch before he will be a starting in the big leagues.
See All MLB Draft Profiles and Rankings