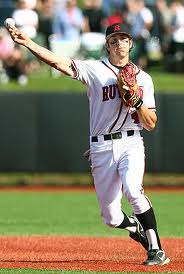 Steve Nyisztor, Junior, Second Base, Rutgers

Overview:
During his freshman campaign, Steve Nyisztor was one of the best middle infielders in the collegiate ranks. The Rutgers product is a big 6-4 shortstop who can also play at second base. Defensively Nyisztor is a stud, but his bat will get him drafted early in the 2012 MLB Draft. As a true freshman, the Toms River, New Jersey native led the Scarlet Knights with a .410 batting average. He also drove in 51 runs and scored 52. Nyisztor only played in a dozen games as a sophomore for Rutgers, but he still has the talent to be an early pick in the draft.
Final Projection:
Nyisztor is close to having it all. He has a fine arm and can be a superb shortstop at times. At other times, that has not been entirely the case, but the talent is there. As he proved as a freshman with Rutgers, he can hit for average. With his size and speed, he can get to balls that other middle infielders would never have a chance to get. It is also that size that gives pro teams hope that he can develop a little more power to fit into his slender 6-4 frame.
See All MLB Draft Profiles and Rankings