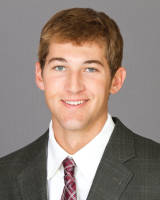 Michael Wacha, Junior, Pitcher, Texas A&M
Overview:
Michael Wacha will get his time to shine in 2012 at Texas A&M. But even in 2010 Wacha was starting to show his stuff. Then a freshman, he made 25 appearances with ten starts and had a 2.90 earned run average. In 2010 Wacha was a good pitcher with plenty of collegiate potential, but in 2011 he was a great pitcher. He started 19 games and had two complete game shutouts. In 129.2 innings of work, the 6-6 righty struck out 123 batters and only walked 30.
Final Projection:
Wacha has nice size, but he still needs to gain some strength. The other bad things about his game right now are the lack of movement on his fastball and the lack of a third pitch to go along with his extremely effective changeup. However, Wacha looks like a professional pitcher when he is on the mound with his smooth delivery. He is a breaking ball away from being a top ten pick in the 2012 MLB Draft.
See All Draft Profiles and Rankings