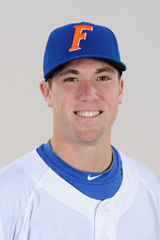 Nolan Fontana, Junior, Shortstop, Florida

Overview:
Defensively speaking, there is no better shortstop available in the 2012 Major League Baseball draft than Nolan Fontana. The 5-11 Winter Garden, Florida product was named to the SEC's All-Defensive Team as a freshman and sophomore. At the plate Fontana has not put up huge numbers with the Gators, but he has proven to be a capable hitter. As a freshman in 2010 he batted .287 and that number increased slightly in 2011.
Final Projection:
Fontana will get a lot of praise for his work defensively. He has great range and a great arm for a shortstop. He will make the routine plays without a problem and will make the tough plays look routine. Fontana does have some snap in his bat and that is something that will only get better over time. The good thing about Fontana at the plate right now is his patience. He will make the opposing pitcher work and he will pick out his pitch. The question is whether or not he can do something with that pitch or not. But Fontana can do enough at the plate that he should be considered a pretty safe first round selection.