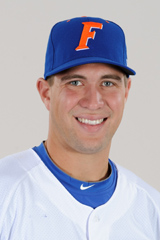 Brian Johnson, Junior, Pitcher, Florida
Overview:
Brian Johnson could have a future in the pros as a pitcher or a first baseman. As a freshman at Florida, the 6-3 southpaw spent most of his time on the mound. He started 14 games and struck out 51 batters in 73.2 innings. Johnson started 15 games as a sophomore and drastically improved his strikeout per inning ratio. At the plate, Johnson has a nice mix of contact and power. He hit nine homeruns as an underclassman and does a decent job of at least making contact.
Final Projection:
However, Johnson's future is likely on the mound. Due to his size and the fact that there are not a ton of great lefthanders in this year's class, he should be a pretty high draft pick. Johnson does have a decent fastball and changeup. The development of his curve could be the difference between the first round and a later round, but Johnson has all the physical tools to be a fine player at the next level.
See All MLB Draft Profiles and Rankings