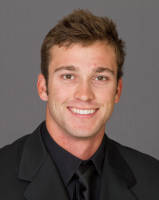 Tyler Naquin, Junior, Outfield, Texas A&M

Overview:
Tyler Naquin only hit .244 as a freshman, but he still made 47 starts in right field. Naquin is not a power hitter, but as a sophomore in 2011 he turned into a much, much better overall player. He boosted his batting average up to an Aggie high .381. Batting left-handed, Naquin has a knack for hitting doubles. He can find the gap and use his speed to stretch many singles into doubles. In 2011 23 of his 104 hits were doubles. Seven were triples.
Final Projection:
Naquin is not your typical right fielder. He lacks the power to fit into that category. At 6-2, Naquin has the potential to add more weight to his lanky frame and work on his power. However, he is a good contact hitter who can avoid strike outs and, with a little more power to his hitting game, Naquin could be a first round draft pick instead of the 33rd round pick he was coming out of high school. In the outfield Naquin can cover a lot of ground for a right fielder and has a great arm.
See All MLB Draft Profiles and Rankings