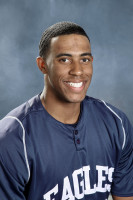 Victor Roache, Junior, Outfield, Georgia Southern

Overview:
Few college players have as much raw power as Victor Roache. The 6-1, 225 pound outfielder had a lot to work on during his time at Georgia Southern and so far that has gone very, very well. As a freshman with the Eagles Roache hit .252 and knocked out eight home runs. His numbers jumped big time in 2011 when he hit 30 home runs and had a .326 batting average. As impressive as all of those home runs may be, it is Roache's dramatic improvement in contact that makes him a likely first round draft choice.
Final Projection:
Roache struck out 42 times in 151 at-bats as a freshman. In 2011 he still struck out 42 times, but had nearly 100 more plate appearances. Roache's power will not go away. He can hit any ball out of any park in any direction. It is his overall hitting that keeps getting better. And the better it gets before the 2012 MLB Draft, the sooner Roache will hear his name called.
See All MLB Draft Profiles and Rankings