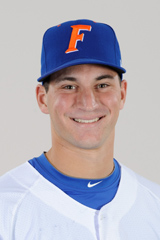 Michael Zunino, Junior, Catcher, Florida

Overview:
Michael Zunino could be a major league catcher right now. Behind the plate he has all the tools any team would want in a catcher. He is a student of the game and has the physical tools and tenacity to go with it. At Florida he has anchored the stellar pitching staff and truly has the experience to make an immediate impact at the next level. At the plate, Zunino has done relatively well with the Gators. In 2011, as a sophomore, he batted .371 and hit 19 home runs.
Final Projection:
The concerns for Zunino are at the plate where he has a tendency to strike out quite a bit. He is a power hitter for the most part so the strike outs are manageable. Yet, Zunino is also a patient hitter and will work the count and earn some walks. That makes any amount of strikeouts easier to stomach. But Zunino will get drafted in the first round for his abilities behind the plate. Any issues he has standing next to the plate can be fixed down the road.
See All MLB Draft Profiles and Rankings