Canes in Final Four State of Mind with New Hoops Coach Jim Larrañaga
It's been more than five-years since former George Mason University Patriot's head basketball coach Jim Larrañaga's Cinderella team became the first mid-major college basketball program in 27-years to march to the Final Four. Now the University of Miami (UM) hoop fans hope Larrañaga - their freshly-minted first-year coach - repeats this feat.
That said, it seems dubious if Larrañaga can take the Canes to the NCAA Final Four in his first season, but the ACC tournament semi-finals is certainly within reach. Especially since the Canes were a preseason pick to finish fifth in the ACC, returned eight of their team's top 10 scorers, possess one of the ACC's most talented backcourts, and are playing in a top heavy conference that many experts believe to be mired in a down year.

"The ACC provides the nation's most exciting brand of basketball," said Larrañaga, who is informally known as Coach L by his inner circle, "This is why I came to Miami and I am enjoying the challenge it provides our program. This opportunity is very special to me."

So far Larrañaga's report card should be graded incomplete. At (7-4), the Canes are still searching for their first signature win. Despite their unspectacular start that has been sprinkled with flashes of promise, to be fair, Larrañaga had to operate without his star center, Reggie Johnson, for the first nine games of the season. Johnson, who is good for a double-double on most occasions, was recovering from knee surgery before returning from the injured reserve against FAU in mid-December. The Canes' line-up, sans Johnson, was devoid of the post presence they desperately needed, especially when facing teams with imposing front-lines.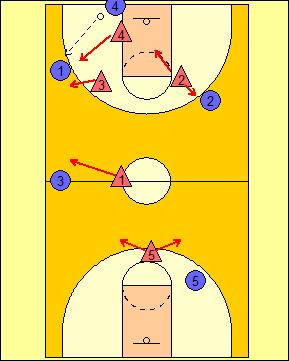 The foundation behind Larrañaga's storied 26-year division-one head coaching career - spawning 12 NCAA appearances (8 since 2000) - can be pointed to his sophisticated two-pronged offensive and defensive schemes. The systems are headlined by his patented full-court "Scramble" pressure defense that is so intricate it can take up to two-years for his players to actually grasp.
The premise behind the Scramble is for the defense to exhibit great pressure, apply adjustments throughout the game, and ultimately disrupt the opponent's rhythm in an effort to catch them off guard. The Scramble's effectiveness was never more apparent than during the second round of the 2006 NCAA tournament when George Mason trailed third-seeded North Carolina 16-2 -before storming back and actually holding on to win - after Larrañaga changed up his chameleon-like man-to-man defensive set to a hybrid Scramble zone.
The Scramble defense (above diagram) is highly revered and emulated in the NCAA coaching fraternity
On the offensive front, Larrañaga's uber-efficient and disciplined formula centers around his players selecting and not just hoisting up high percentage shots that fall within the contours of their game. Larrañaga monitors the system by number crunching and baselining his team's statistics to metrics such as Points-Per-Possession to ensure his well oiled machine is operating at peak performance.
"The guys have given us a strong effort and have a great attitude," said Larrañaga. "Their minds are very open to this new way of looking at things. But it is going to take a lot of time before we can execute the new system under game conditions."

"If it takes (Larrañaga's) team a long-time to learn the Scramble, it takes his opponents even longer before they figure it out," Boston Celtics head coach, Glen 'Doc' Rivers quipped.
"If it takes (Larrañaga's) team a long-time to learn the Scramble, it takes his opponents even longer before they figure it out," Boston Celtics head coach, Glen 'Doc' Rivers quipped.
Larrañaga's teams have been known to shoot intelligently, employ intensive defensive pressure and take care of the basketball, as evidenced by last season's George Mason team that ranked 41st in field-goal percentage, committed the 22nd fewest turnovers (this year ranked 27th) and had the 38th stingiest defense in the nation. Conversely, former Canes' head coach Frank Haith's UM team fell in at an anemic 277th in field-goal percentage, 205th in turnovers and 163rd in defense last season. For the Canes, who last reached the NCAA tourney in 2007, Larrañaga's attention to detail, and his ability to get to the NCAA, and actually win while he is there, is welcome news. In the past seven seasons under Haith, the Canes had not posted a winning record in the confines of the ultra-competitive ACC.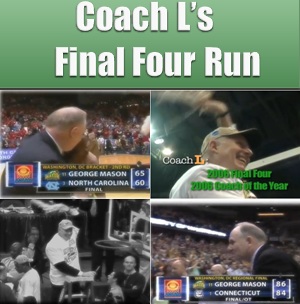 Despite Larrañaga's stellar resume, including the 2006 Clair Bee National Coach of the Year Award, at 62, some feel the Canes should have looked toward the future and hired someone younger, perhaps in the mold of his cohort, Al Golden, the 42-year-old first-year UM football coach. Apparently those naysayers simply do not know Larrañaga, who brings to the Canes an impressive 450 career coaching victories - 17th among active coaches. Even more significant, Larrañaga departed George Mason's basketball program with an impressive 273-164 career mark after 14 seasons, stockpiling three Colonial Athletic Association (CAA) titles, three NIT invitations and five NCAA appearances.
It was at the grandest of all stages, the 2006 NCAA tournament, during George Mason's Final Four epic crusade, where Larrañaga peaked as a coach. Larrañaga's George Mason team extinguished mega powers North Carolina, Michigan State, and Connecticut, as well as a talented fellow mid-major Wichita State team, with the precision and lethality of a drone attack.

Larrañaga, the most winning coach in CAA history, is a rare breed. While most coaches, seemingly in the twilight of their career and with AARP knocking on their door, are planning on settling down, Larrañaga is just warming up. Nevertheless, the mere decision to uproot his family and three trustworthy assistant coaches - who have cumulatively been by his side for 23 years - was not only unexpected, but a downright gamble.
Larrañaga had a good thing going at the sprawling and bucolic Fairfax, Virginia based university, with a burgeoning enrollment now swelling to more than 31,000 students. The George Mason basketball team has the luxury of playing its home games to crowds averaging between 5,000 - 6,000 fans at the Patriot Center - a spacious, amphitheatre styled 10,000-seat on-campus arena. Larrañaga's choice for finishing out his 40-year and ticking career with George Mason appeared to be a foregone conclusion. After all, he just received a generous raise from the university, his team was returning virtually intact after a record tying 27-win season, the Patriots won a school best 16 games in a row, and to apply an exclamation point - upset Big East powerhouse Villanova (once ranked fifth in the nation during the season) in the NCAA tournament.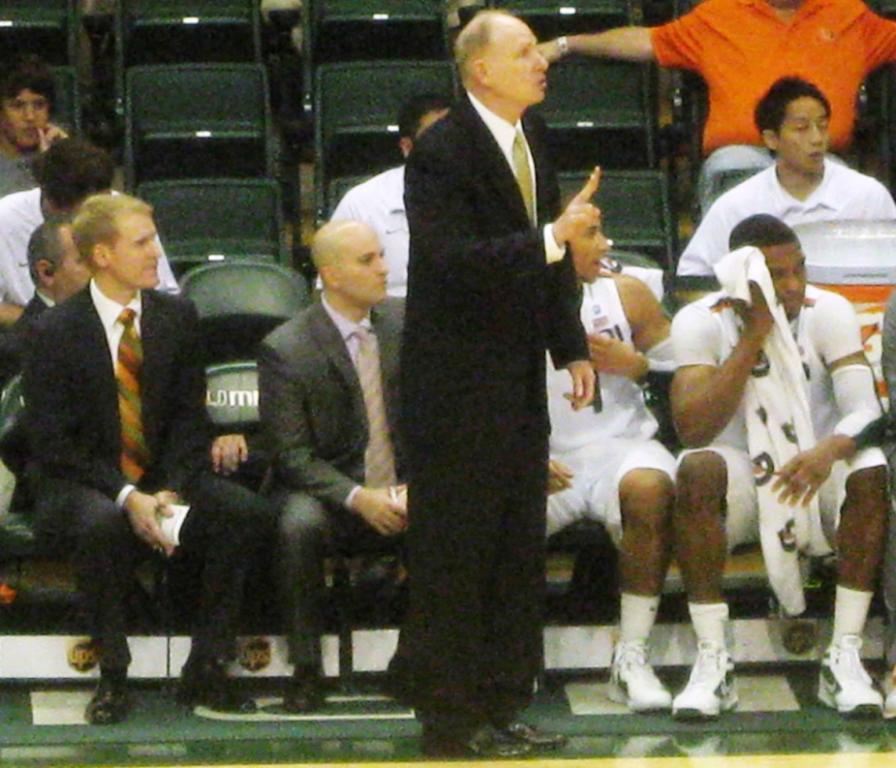 Larrañaga's seismic-like move appeared even foggier considering the fact that he succumbed to the allure of the ACC, where the Canes appear to be overmatched. UM has struggled, in what Larrañaga considers to be the nation's premier conference, where they are coming off a disappointing 6-10 campaign and hold a combined 43-69 record the past seven seasons under the Haith regime. A challenging week in the ACC entails the Canes facing back-to-back road games against perennial basketball powers North Carolina and Duke, the preseason Sports Illustrated first and fifth ranked teams respectively.
The Canes' basketball coaching position has been overshadowed by the monopolistic hold the football team has maintained on campus, however, as of late, The U's gridiron dominance has been compromised by the highly publicized billion dollar booster scandal that has drawn forth a NCAA investigation. It appears highly likely that some form of NCAA sanctions will be levied on the football team. The investigation has even breeched the basketball team as Canes' senior forward DeQuan Jones was ruled ineligible earlier this season (only to be recently reinstated) due to an alleged $10,000 recruiting violation involving a monetary exchange between undisclosed parties.

Larrañaga, whose George Mason basketball team ruled the campus unchallenged, will also need to adjust to sharing the stage with the four-time NCAA champion UM baseball team, who surprisingly, draw comparable crowds to the basketball team. The Canes nationally ranked women's basketball team poses an additional distraction. When it comes to home-court advantage, the Canes' are not beneficiaries. Their home games are about as crowded as a beach on a rainy day, unless North Carolina or Duke travels to Coral Gables. Only free Nike T-shirt giveaways have lured a critical mass to venture to the "stones throw away," on-campus BankUnited Center.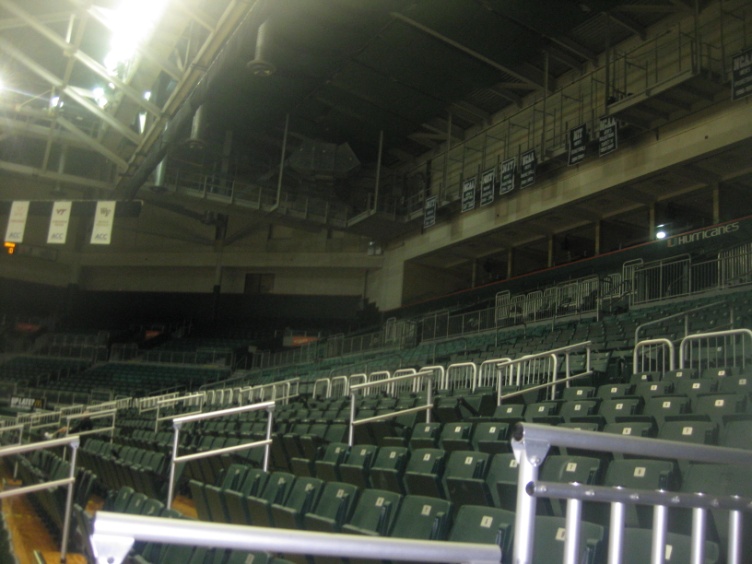 Last season the Canes drew on average, 4,713 fans, finishing in the ACC attendance cellar. This season, despite the arrival of a proven winning coach, a 5-1 home record, and an early season visit from the 22nd ranked Memphis Tigers; the Canes' attendance has mysteriously slipped 29 percent. One has to surmise, as winning typically breeds large crowds, the students will start attending games en masse - that is if Larrañaga is able to navigate his team to a more competitive standing in the shark infested waters of the ACC.
To start the season, Larrañaga's team was faced with key injuries
There are plenty of seats available at the BankUnited Center during UM hoop games
to an already thin front-line. Johnson was joined by 6-10 senior forward Julian Gamble on the injured reserve, whose injury, a torn ACL, will keep him out for the entire season. The Canes' have sorely missed Johnson's 6-10, 285-frame that pulled down a team leading 9.6 rebounds. Johnson has already added a new dimension to the Canes' former guard-oriented attack since his return and UM will rely heavily on his interior game that also produced 11.9 points with 59 percent accuracy last season. The Canes' team is further depleted in the back-court, where sharpshooting freshman guard, Bishop Daniels, is out indefinitely, nursing a broken foot.

The Canes' survived Johnson's absence by inter-changing 6-11 University of Florida junior transfer Kenny Kadji and 6-10 sophomore Raphael Akpejiori into the center slot. Both big men were repurposed from their more familiar power-forward position. At times, Larrañaga complimented the center slot by implementing a four guard attack headlined by a newcomer – Shane Larkin, a lightning-fast three-point sniping freshmen guard.
As a body of work, the Canes are not exactly a reconstruction project. They returned eight players from a 21-15 team. The Canes' strength begins with its versatile New York City bred backcourt consisting of senior Malcolm Grant and junior Durand Scott, who share the point-guard duties and with Larkin in the mix - there is now a third option. Other supporting parts include senior DeQuan Jones, junior swingmen Garrius Adams and Trey McKinney Jones, and sophomores Rion Brown and Eric Swoope.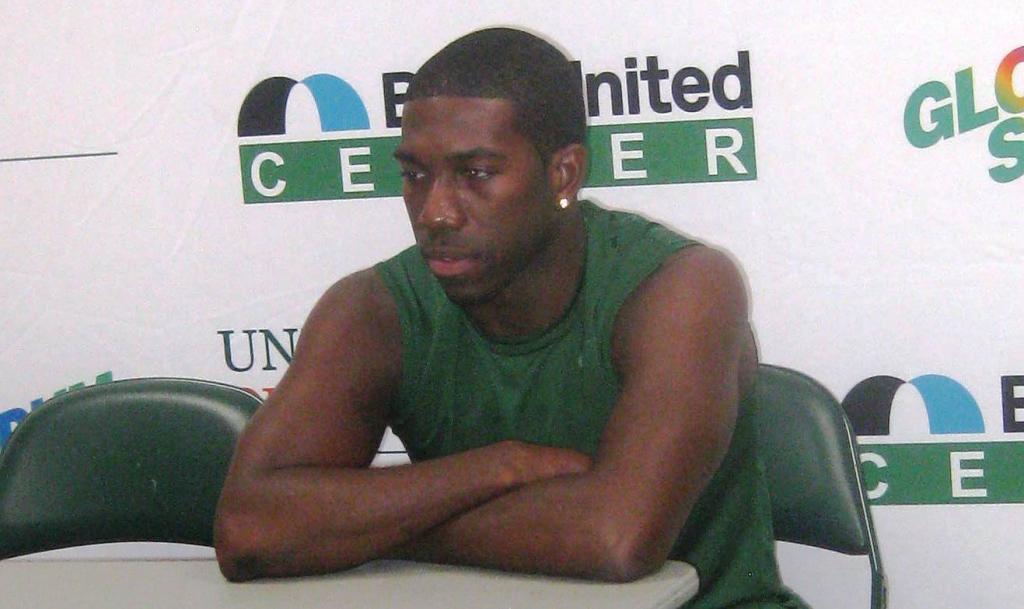 Malcolm Grant was selected an All-ACC Preseason Third-Team pick
Larrañaga would have been entering his 15th season as the George Mason head coach if it wasn't for a chance encounter with brothers Jorge and Jose Mas at a Michael Jordan $17,000 adult basketball camp. The Mas brothers are owners of MasTec, a $52 billion, Miami headquartered, underground infrastructure company. Jorge and Jose Mas, who are also prominent UM alumni, purportedly had the ear of the influential basketball coaching selection committee. According to anonymous sources, it was their behind the scene efforts that contributed significantly to Larrañaga landing the Canes' lucrative coaching position.

In fact, prior to the Mas brothers lobbying efforts; Larrañaga was not even on the Canes' radar. Then, one day, Larrañaga received an urgent call from Jose Mas instructing him to send the Canes' coaching selection committee his resume immediately. Larrañaga, who was traveling at the time, didn't have access to his resume at that moment, so he wisely cut and pasted his Wikipedia profile into an email and sent it out.
Larrañaga ratcheted up his pursuit of the Canes vacant coaching position by enlisting the services of friend "Doc" Rivers, who placed a recommendation phone call to Shawn Eichorst, the Canes newly-hired athletic director. Rivers, a former Marquette University basketball star and Eichorst, the just hired UM Athletic Director (AD) by way of the Wisconsin-Madison AD position, shared geographical ties.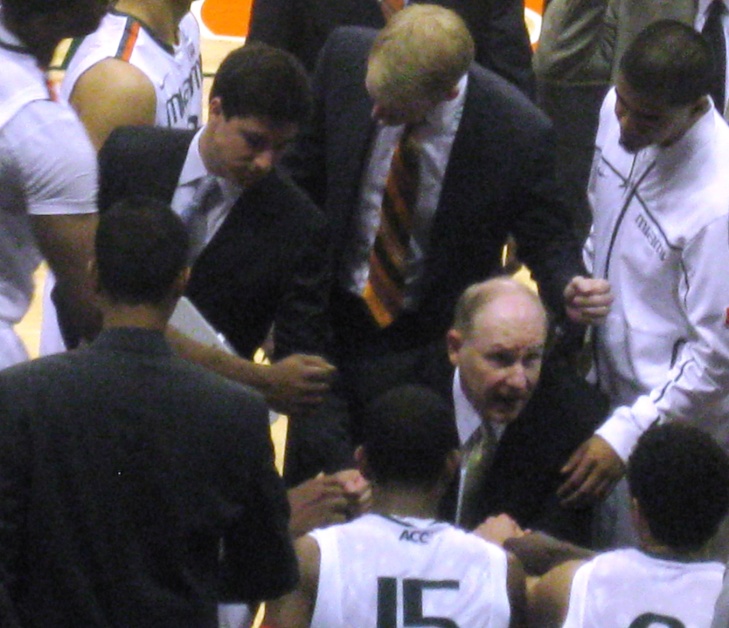 One other development in Larrañaga's favor, involved the actual hiring of Eichorst in the middle of the coaching search, which ultimately reset the entire process. Coincidentally or intentionally, after Eichorst was named AD, Larrañaga, seemingly overnight, leapfrogged over the original candidate shortlist to assume the leadership position - one in which he would not relinquish.

"There was another group of people that were searching for a coach before I was hired and they had identified some folks," Eichorst conceded. "From my perspective, I had a good idea what I was looking for and Jim's name quickly surfaced."

After a series of fruitful meetings and phone calls between Larrañaga and Eichorst, on April 22nd, 2011, Larrañaga was named the University of Miami's 12th head-basketball coach.
"He is a trailblazer not a caretaker," said Eichorst. "Jim has built two programs from the ground up that were not in easy environments to coach. We are confident he will attain the same level of success here that he accomplished at George Mason and Bowling Green. Miami is a community and institution worthy of having a championship caliber program."
At the end of the day, Larrañaga's economics major came in handy, as he converted a $17,000 investment (MJ's basketball camp tuition) into a $1.3 million capital gain (UM's annual basketball contract) essentially doubling down his existing salary at George Mason.

While UM's present looks promising, the future looks even brighter. Although Haith was known for his recruiting prowess, UM does not appear to have lost a step under Larrañaga. After he was hired at UM, right out of the gate, Larrañaga proceeded to reel in Shane Larkin, a Scout.com top 20 guard and 70th overall, by way of DePaul. Larkin transferred from DePaul due to a medical condition that is believed by some enquiring minds, to be based more on his desire to be closer to home as well as play for Larrañaga and less on a physical condition - other than a case of severe "home sickness."
"Jim has a great personality and a special rapport with the kids. They really enjoy playing for him," said Rivers. "He will do real well recruiting in Florida. Larkin would not be at UM if it wasn't for Larrañaga."
"Jim has a great personality and a special rapport with the kids. They really enjoy playing for him," said Rivers. "He will do real well recruiting in Florida. Larkin would not be at UM if it wasn't for Larrañaga."
And who knows better than Rivers. Larkin was the 2011 6A Florida High School Player of the Year runner-up to none other than Austin Rivers, Doc's son, who is now starring at Duke.
In addition to Larkin, the son of Cincinnati Red's baseball great Barry Larkin, Larrañaga has received 2012 National Letter of Intents from Tonye Jekiri, a 6-11, 220 pound center from Miami-Hialeah and Melvin Johnson, a 6-3, 188 pound shooting guard from New Jersey. Jekiri will add much needed size to UM's front-line and was rated Scout.com's 13th best center. Johnson, will deepen the back-court and soften the blow when Grant graduates. Johnson is currently ranked ESPN's 44th-best shooting guard.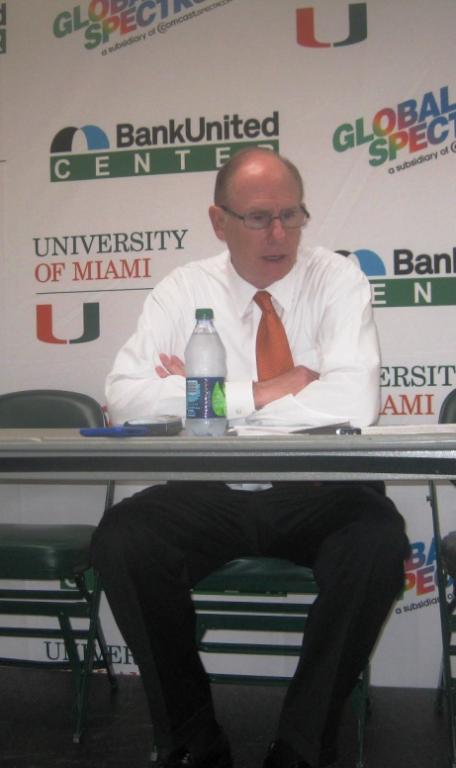 Larrañaga first became interested in the coaching profession when he was in tenth grade as a member of the vaunted Arch Bishop Molloy High School basketball team in the Bronx. Larrañaga developed a strong bond with his coach, mentor, and role model, the legendary Jack Curren, whose 913 and counting career wins are the most in New York State High School history.
Upon Larrañaga's graduation from Arch Bishop Molloy, he went on to star at Providence College, finishing as the schools fifth all-time leading scorer as well as an entrant into the college's Hall of Fame. After Providence, Larrañaga was selected in the 6th round of the NBA draft, but decided to embark on a coaching career instead.

His coaching tour would take him to such varied places as Davidson, American International, overseas in Belgium, and the University of Virginia (UVA). At UVA, as an assistant to Terry Holland, the Ralph Sampson led Cavaliers reached the Final Four in 1981 and also in 1984, against the Phi Slamma Jamma Houston Cougars, when a last second Hakeem Olajuwon deflection was the difference between a shot at the national championship or the latter - a sudden trip home.
Larrañaga first cut his teeth as a division one head coach with Bowling Green, where he spent 11-years and collected 170 wins - second most in school history, before venturing to George Mason. Now after putting the Patriots on the proverbial college basketball map, Larrañaga finds himself in his career's final stanza. Canes' fans got a glimpse of how Larrañga does business when UM overcame a nine-point second-half Tennessee Tech lead with aplomb to defeat the Golden Eagles in game two of the Coach L era.

"Last year we would have lost this game to be honest with you. Coach L is a great leader, who is always positive the matter what the situation brings," said Grant. "We respect and admire that, so that's why we go out there and play hard for him."

Larranaga has found himself coaching in much more austere conditions to put it mildly, where he took George Mason, then a nascent five-year old program, to college basketball's Mecca - the Final Four. Now in a more Target Rich Environment at UM and given Larranaga's turnaround artist legacy, his imminent success seems to be not a question of if, but a matter of when.