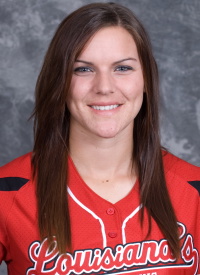 Christi Orgeron, Senior, Utility, Louisiana

Overview:
It is an impressive feat for a major league baseball player to eclipse the 100 RBI plateau in a 162 game schedule. Christi Orgeron played in 62 games during the 2011 campaign and managed to tally 101 runs batted in. Add that to 20 doubles, five triples and 23 homeruns and that is one impressive season for Orgeron. The 5-11 utility player garnered a lot of attention in 2010 when she hit .307 with 15 homeruns and 56 RBI's. She shattered all of those marks in 2011 and could be even better in 2012.
Final Projection:
Orgeron may be considered a pure power hitter, but she has done a superb job of increasing her overall hitting during her time with the Ragin' Cajuns. In 2011 she boosted her batting average to a team high .414. After batting .312 and .307 during her first two years at the collegiate level, Orgeron took a huge step forward as a junior. Another year of improvement like that and she could be the best hitter in the nation.
See All NPF Draft Profiles and Rankings