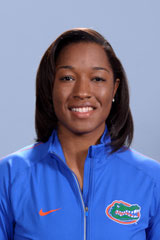 Michelle Moultrie, Senior, Outfield, Florida
Overview:
Michelle Moultrie may not be the scariest batter in an always dangerous Florida batting lineup, but she is the player that the power hitters usually bring home. Moultrie is a superb contact hitter and has a whole lot of speed. In 2011 the centerfielder stole 31 bases. But in order to steal bases, Moultrie has to get on base and few players in the nation do that as well as she does. In 2011 Moultrie batted .443 and walked 34 times. That means she reached base more than half of her plate appearances. What more could a team ask for from a leadoff hitter?
Final Projection:
Moultrie garners attention for her speed and ability to get on base, but her defense is also an asset. She can cover a ton of ground in centerfield and will catch just about everything she can get to. Moultrie does have some power to go along with her contact hitting. She knocked out six homeruns in 2011. With a well-balanced game and more speed than most players in college softball, Moultrie has a future in the NPF.
See All NPF Draft Profiles and Rankings