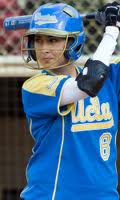 Andrea Harrison, Senior, Outfield, UCLA

Overview:
Andrea Harrison has quite a collection of awards under her belt. Back in 2009 she was named to the Pac-10 All-Freshman team and was an honorable mention All-Pac 10 honoree. At that point she was already showing off her power at the plate, hitting eight homeruns and knocking in 34 runs. By her sophomore season, Harrison was a first team All-Pac 10 honoree and emerged as a much more consistent threat at the plate. On top of her 17 homers, she increased her batting average to .343. Harrison had another great year in 2011. She knocked 15 balls out of the park, but continued to develop her skills as a contact hitter. She batted .409 and only struck out 19 times.
Final Projection:
Harrison has done a superb job balancing her ability to hit for power and contact. Whatever the situation warrants, Harrison is the player UCLA wants at the plate. What is often overlooked is Harrison's defensive ability. She is one of the better outfielders in college softball who rarely makes a mistake and has an arm that will make base runners think twice about pushing for an extra base.
See All NPF Draft Profiles and Rankings