Maryland's position after close win over Northwestern
We're now officially into the home stretch of the season and after 8 game weeks in the NCAAF Big 10, there's only a couple of things that are certain. Ohio State and Michigan are crazy good. As for the rest, we really don't know what to expect from anybody! But with a big end of season run coming up, there are a few teams stuck in the middle of the pack that will be kicking themselves, wishing they'd taken opportunities they let slip by. All is not lost however as there are still 7 game weeks to go, teams can fumble, others can regain, how will this season end?
Today we're going to be taking a look at Maryland and how they've been getting on so far. Is it still within their reach to push on and make something of the season? Or have they fallen a little too far now to truly capitalise? Well, they have put together back to back wins in the last 2 game weeks, firstly over the Indiana Hoosiers in game week 7, a close affair but a 38-33 win is a great way to bounce back after a loss, then in game week 8 they hosted the Northwestern Wildcats where they added another win to their tally, a close one again but a wins a win right? 31-24 leaving them 6-2 overall and 3-2 in the conference for the season right now.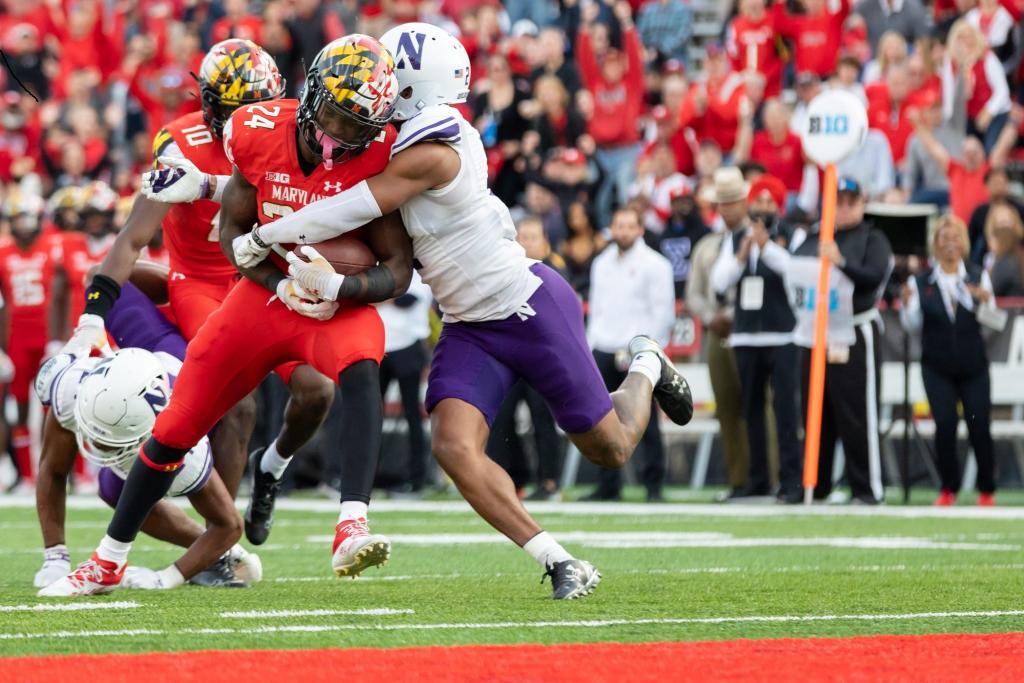 A solid win after a boat load of injuries for Maryland as they record a 31-24 win over Northwest. Source:
DiamondBack
But how did they get on? Was the game as tight as it looks when checking out the scoreline or was it a little better than that? Well, it's worth mentioning that the Terps have had a lot of injuries recently and even with that in mind, they still managed to get the job done and clinch their earliest bowl berth since 2001. Not only that but they have managed to get up to 6 wins in back to back seasons now, which is a fantastic accomplishment by the standards of anybody really.
But even at 6 wins so far, is this really where the journey ends or is there more to come? "As this program is built, we're trying to get bigger and better. We're looking forward to getting more wins. Last year was getting over the hump, this year, keep going up that ladder, keep stacking." Said safety, Dante Trader Jr. It was Trader Jr. who started the comeback against Northwestern, during the third quarter, Maryland were down by 10 and Trader managed to grab a very clutch interception to get them on their way.
Given the absence of starting quarterback Taulia Tagovailoa who missed the game due to a previous MCL sprain that flared up again and with more key players missing like Ruben Hyppolite II, Jaishawn Braham, Gavin Gibson and Vandarius Cowan with Fa'Najae Gotay joining them after he picked up a hamstring injury during the game, it really is a miracle that, after being behind and having so many big names out, that Maryland got the result in the end and it kind of cemented their position as one of the teams that people should be worried about in coming seasons.
Now is probably as good a time as any to see what the experts are thinking for the upcoming game week in the NCAAF, UNFORTUNATELY the Terrapins don't play again until November 5th so there are no odds available on their next game however their recent opponents, Northwestern, play Saturday so is there any better place to start? Probably not! Northwestern are currently 1-6 and they travel to Kinnick Stadium as they take on the Iowa Hawkeyes who currently sit 3-4!
Checking out the NCAAF odds in Betrivers Maryland, we can see that understandably, Northwestern are HEAVY underdogs, I'm talking +350 underdogs here, so if you're feeling wild and fancy a $5 stake, that $5 will see you receive $22.50 back, if you're a little more sensible however and fancy putting your money on Iowa, they are -450 favourites, that is HUGE. That $5 stake will only see you return $6.11, so maybe consider adding them into a parlay or something instead?
Speaking of Parlays, if you're considering a parlay for Saturday, you have a few options. Ohio State travels to Penn State, where they are -700 favourites, yeah you read that right. That $5 stake only returns $5.71 here. A Parlay with Iowa takes it to -257 which returns $6.98, still not great really, but those are some crazy odds. Penn state is +500, which is a $30 return from the same stake and if you're feeling outrageously lucky you can get the underdog parlay at +2600, a $135 return, wild, but crazier things have happened right?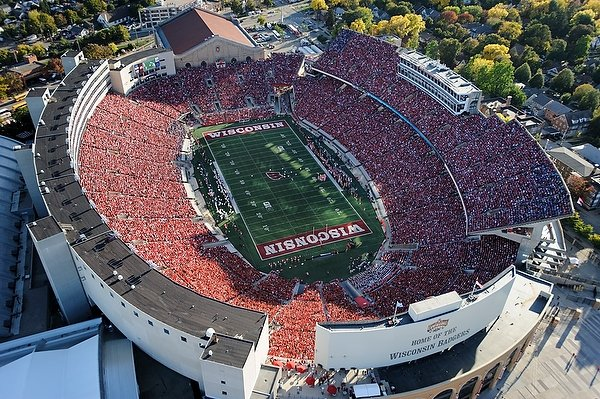 How will Maryland get on as they visit the Camp Randall Stadium on November 5th to take on the Wisconsin Badgers? Source:
Badger Herald
I think that's going to do it for this one, Maryland fans and fellow students. How have you been enjoying your team's performances this season? Do you think a big push is possible to maybe go for glory? Who have been your favourite players so far and on the other side of that, who do you think has underperformed? Beyond that, are there any players that aren't seeing much game time that you think could improve your team in a significant way?
As for the rest of you College Football fans out there, the same questions apply to you guys! As a Brit who has only been getting into American Football over the last few years, it still blows my mind that Collegiate sports are such a huge deal in the US, I'm not sure what it is that makes it so different to school/college sports over here in the UK, but we just don't seemingly care that much about them in comparison, MAYBE scouts use the college level to look for players for local teams, but that's pretty much the end of it. Until next time, take care folks!