Sam Houston Bearkats
Overall Rank: #8
#1 WAC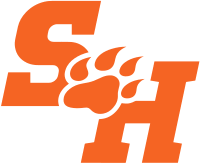 Sam Houston is off to the FBS next season and are not eligible for the playoffs. The Bearkats wrapped up their long FCS playoff history as the #1 overall seed and a disappointing loss in the quarterfinals. The Bearkats may not have much to play for in 2022, but they will almost certainly leave the FCS on a high note.
2021 Record: 11-1, 6-0
2021 Postseason: FCS Playoffs
Coach: K.C. Keeler (80-23 at Sam Houston, 254-96-1 overall)
Offensive Coordinator: John Perry
Defensive Coordinator: Clayton Carlin and Joe Morris
Returning Leaders:
Rushing: Noah Smith, WR, 567 yards
Passing: Keegan Shoemaker, QB, 294 yards
Receiving: Ife Adeyi, WR, 742 yards
Tackles: Trevor Williams, LB, 78
Sacks: Markel Perry, DL, 5.0
Interceptions: Kameryn Alexander, DB, 2
Other Key Returnees: WR Cody Chrest, DB Darrel Hawkins-Williams, DL Jevon Leon, LB Trey Fields, LB Kavian Gaither, DB Taylen Blaylock
Key Losses: QB Eric Schmid, RB Ramon Jefferson, WR Jequez Ezzard, WR Chandler Harvin, OL Reece Jordan, OL Prince Pines, OL Colby Thomas, DL Jahari Kay, DB Zyon McCollum, DB Jaylen Thomas, DB Tristin McCollum, LB Tim Hart
Offense:
With Eric Schmid gone, Coach K.C. Keeler will need a new leader to run his offense. Keegan Shoemaker was Schmid's back-up last season and led Sam Houston to a win over a very good Stephen F. Austin team by throwing for 222 yards and two touchdowns. Coach Keeler has also brought in Georgia Tech transfer Jordan Yates, who started six games for the Yellow Jackets last season. Schmid will be missed, but the passing game is still in very good hands. Ife Adeyi and Cody Chrest, the team's top two receivers a season ago, will make life much easier for the new signal caller. The versatile Noah Smith recorded 222 receiving yards and 567 rushing yards. Dezmon Jackson, a transfer from Oklahoma State, will likely be the more traditional running back.
Defense:
Like the offense, the defense has some big holes to fill. But like on offense, there is some experience and a ton of talent. Markel Perry and Jevon Leon are the experienced options on the line. Perry led the Bearkats with 15.0 tackles-for-loss in 2021. Leading tackler Trevor Williams is also back and he will be a great leader for the entire defense. The linebacker was an All-Conference honoree in 2021 and was a unanimous selection on the 2022 WAC preseason All-Conference team.
The Bottom Line:
The Bearkats will get a taste of their future FBS life when they head to College Station to take on Texas A&M on September 3rd. The other challenging game on the schedule will be against Stephen F. Austin. If the Bearkats care to finish with the best record in the WAC, they will have to get a win over the Lumberjacks.
2021 Team Stats:
Rushing Offense: 228.2 (6th in nation, 1st in conference)
Passing Offense: 262.8 (21, 3)
Total Offense: 490.9 (5, 1)
Scoring Offense: 41.0 (3, 1)
Rushing Defense: 85.2 (4, 1)
Pass Defense: 261.0 (109, 7)
Total Defense: 346.2 (38, 2)
Scoring Defense: 21.4 (24, 2)
Turnover Margin: 0.00 (62, 5)
Sacks Allowed: 1.25 (17, 1)