East Tennessee State Buccaneers
Overall Rank: #12
#1 SoCon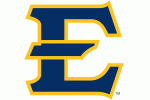 East Tennessee State is coming off a great 11-2 season. They won their first playoff game since 1996 when they knocked off Kennesaw State in the Second Round. Their quarterfinal trip to North Dakota State did not go as well, but that nice run in the playoffs is garnering plenty of momentum heading into the 2022.
2021 Record: 11-2, 7-1
2021 Postseason: FCS Playoffs
Coach: George Quarles (0-0 at ETSU, 0-0 overall)
Offensive Coordinator: Adam Neugebauer
Defensive Coordinator: Billy Taylor
Returning Leaders:
Rushing: Jacob Saylors, RB, 1,019 yards
Passing: Tyler Riddell, QB, 2,464 yards
Receiving: Will Huzzie, WR, 798 yards
Tackles: Alijah Huzzie, DB, 76
Sacks: Jalen Porter, LB, 6.0
Interceptions: Alijah Huzzie, DB, 3
Other Key Returnees: OL Tavon Matthews, OL Fred Norman, OL Joe Schreiber, DB Mike Price, LB Zach West, LB Di'Andre Davis, LB Stephen Scott, DL Timmy Dorsey
Key Losses: RB Quay Holmes, WR Malik Murray, TE Nate Adkins, OL Tre'mond Shorts, LB Donovan Manuel, LB Jared Folks, DB Tyree Robinson, DB Karon Delince, DL Olajuwon Pinkelton
Offense:
The offense has plenty of star power. Quay Holmes is gone, but ETSU has another 1,000-yard rusher ready to carry the load. Despite playing second-fiddle to Holmes, Jacob Saylors rushed for 1,019 yards and ten touchdowns on just 143 carries. That is over seven yards per carry. ETSU will need to find a secondary option in the backfield, but they certainly have a great lead back. They have a pretty good quarterback too. Tyler Riddell completed 62.4 percent of his passes for 2,464 yards and 19 touchdowns with just five interceptions. Will Huzzie will again be Riddell's favorite target after leading the Buccaneers with 58 receptions for 798 yards.
Defense:
The East Tennessee State defense did enough to keep them in every game. However, the numbers took a bit of a dip compared to the spring season when the unit was first or second in the SoCon in during the spring of 2021. There is plenty of reason for optimism heading into 2022. Jalen Porter is a linebacker who will spend plenty of time in the backfield. Losing their top two tacklers in Donovan Manuel and Jared Folks hurts, but with linebackers like Porter, Zach West, Di'Andre Davis and Stephen Scott returning, there is not a lack of options. The big playmakers in the secondary are Alijah Huzzie and Mike Price. Huzzie defended a dozen passes, including three interceptions. Price tallied 73 tackles.
The Bottom Line:
It should be an interesting season in the SoCon. Chattanooga and Mercer both have very good teams who could reach the playoffs. The Buccaneers face those team twos in early October. But this is a ETSU team with a balanced offense and a proven defense. And that is what makes them very capable of repeating as conference champions.
2021 Team Stats:
Rushing Offense: 213.5 (8th in nation, 2nd in conference)
Passing Offense: 195.7 (72, 5)
Total Offense: 409.2 (29, 5)
Scoring Offense: 32.7 (20, 2)
Rushing Defense: 153.8 (63, 4)
Pass Defense: 229.2 (69, 7)
Total Defense: 383.0 (69, 3)
Scoring Defense: 22.7 (30, 2)
Turnover Margin: 1.00 (4, 1)
Sacks Allowed: 1.77 (46, 7)