Incarnate Word Cardinals
Overall Rank: #20
#1 Southland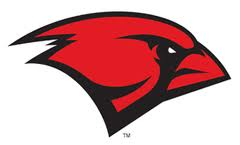 Incarnate Word has had to move on from the Coach Eric Morris era and they went out and got G.J. Kinne to lead the program. Coach Kinne spent the last two years as an offensive coordinator at Hawaii and UCF. He was the quarterback at Tulsa in the late 2000's and certainly knows how to utilize Incarnate Word's impressive passing attack.
2021 Record: 10-3, 7-1
2021 Postseason: FCS Playoffs
Coach: G.J. Kinne (0-0 at Incarnate Word, 0-0 overall)
Offensive Coordinator: Mack Leftwich
Defensive Coordinator: Jonathan Patke
Returning Leaders:
Rushing: Marcus Cooper, RB, 580 yards
Passing: Kevin Yeager, QB, 26 yards
Receiving: Taylor Grimes, WR, 1,145 yards
Tackles: Kelechi Anyalebechi, LB, 119
Sacks: Kelechi Anyalebechi, LB, 3.5
Interceptions: Elliott Davison, DB, 4
Other Key Returnees: WR Darion Chafin, WR CJ Hardy, OL Nash Jones, OL Reid Francis, OL Caleb Johnson, DB Kaleb Culp, DB Brandon Richard, LB Isaiah Paul, DB Dante Heaggans, DL Sam Latham
Key Losses: QB Cameron Ward, RB Kevin Brown, WR Robert Ferrel, WR Trevor Begue, DL Brandon Bowen, DB Rashon Davis, DB Moses Reynolds
Offense:
In an effort to replace Cameron Ward, the Cardinals have brought in Lindsey Scott Jr. to take over at quarterback. He started at Southland Conference rival Nicholls last season where he threw for 2,073 yards and 16 touchdowns and rushed for 990 yards and nine more touchdowns. Scott may not be able to completely duplicate Ward's numbers through the air, but he is more of a running threat. Scott will benefit from the return of record-breaking wide receiver Taylor Grimes. In his first year at UIW, Grimes set the single season school record for receiving yards with 1,145 and receiving touchdowns with 15. With Darion Chafin and CJ Hardy, there will be plenty of receiving threats for the opposing secondary to worry about. The ground game could see a bump in production in 2022. The line is very talented and Marcus Cooper has the ability to be a 1,000 yard rusher.
Defense:
Incarnate Word had one of the better defenses in the Southland Conference, ranking second in the conference in pass defense and scoring defense. They were involved in their fair share of shootouts, but the defense got some big stops when they needed it most. With linebacker Kelechi Anyalebechi leading the way, the defense should be in for another solid campaign.
The Bottom Line:
Incarnate Word won their first ever playoff game last year, knocking off Stephen F. Austin in the first round 35-28. They nearly kept up with top-seeded Sam Houston in the second round, losing by a score of 49-42. That will be a tough act to follow, but the Cardinals have the tools to win the Southland and return to the playoffs.
2021 Team Stats:
Rushing Offense: 127.2 (84th in nation, 5th in conference)
Passing Offense: 360.0 (5, 2)
Total Offense: 487.2 (6, 3)
Scoring Offense: 39.5 (4, 2)
Rushing Defense: 177.5 (91, 4)
Pass Defense: 250.1 (100, 2)
Total Defense: 427.6 (95, 3)
Scoring Defense: 26.9 (62, 2)
Turnover Margin: 0.54 (25, 2)
Sacks Allowed: 2.54 (88, 3)