South Carolina State Bulldogs
Overall Rank: #36
#1 MEAC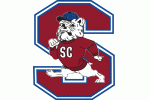 After starting off the year with losses to Alabama A&M, Clemson and New Mexico State, South Carolina State emerged as the team to beat in the MEAC. And nobody was able to beat them. The Bulldogs went a perfect 5-0 in conference play and finished off the season by beating Jackson State in the Celebration Bowl. The bad news for the MEAC is that this group could very easily be better than they were a year ago.
2021 Record: 7-5, 5-0
2021 Postseason: Celebration Bowl vs Jackson State (W 31-10)
Coach: Buddy Pough (143-80 at South Carolina State, 143-80 overall)
Offensive Coordinator: Bennett Swygert
Defensive Coordinator: Jonathan Saxon
Returning Leaders:
Rushing: Kendrell Flowers, RB, 683 yards
Passing: Corey Fields Jr., QB, 2,310 yards
Receiving: Shaqaun Davis, WR, 864 yards
Tackles: BJ Davis, LB, 76
Sacks: Patrick Godbolt, DL, 4.0
Interceptions: 7 tied with 1
Other Key Returnees: RB Donte Anthony, RB Jacory Benson, WR Richard Bailey, OL Nick Taiste, OL Eric Brown, OL Cam Johnson, DL Jablonski Green, LB Chad Gilchrist, DB Jaylen Evans, DB Chris Simmons, DL Octaveon Minter, LB Aaron Smith, S Jalen Barr, DB Duane Nichols
Key Losses: WR Will Vereen, DB Decobie Durant, DB Zafir Kelly
Offense:
Quarterback Corey Fields Jr. is back to lead the offense once again. He threw for 2,310 yards and 18 touchdowns in 2021. Fields is not the most efficient quarterback, completing just 49.7 percent of his passes and tallying 13 interceptions. However, he can make big plays when the team needs him to do so, but avoiding a few of those mistakes would be helpful. The big plays should keep coming with Shaqaun Davis returning. He led the team with 864 receiving yards and eight touchdowns a year ago. Richard Bailey will likely step into the second receiver spot with the departure of Will Vereen, but Coach Buddy Pough has some talented younger players who will be itching for a slice of the pie as well. The strength of the offense will probably be on the ground though where Kendrel Flowers, Donte Anthony and Jacory Benson will run behind an offensive line that returns three all-conference honorees.
Defense:
As good as the offense will be, the defense will be better. Nine starters are expected back and there is experience and depth and talent across the board. The two players not returning are obviously where the concerns lie. Cornerbacks Decobie Durant and Zafir Kelly were both First-Team All-MEAC honorees and combined for six of the team's 13 interceptions. Jaylen Evans, Chris Simmons and Jalen Barr are a good trio to build around and Jamre Benjamin is a name to watch out for in the secondary, but it will be difficult to replace Durant and Kelly.
The Bottom Line:
South Carolina State won some of those tight MEAC games last season because of their turnover margin that was tops in the conference. If the new look secondary struggles to create turnovers and Fields is intercepted over once per game again in 2022, some of those close wins could turn into close losses. But this is still the deepest and most talented team in the MEAC by a significant margin and the goal will be to win the Celebration Bowl for the second straight season.
Projected Postseason: Celebration Bowl
2021 Team Stats:
Rushing Offense: 138.6 (69th in nation, 3rd in conference)
Passing Offense: 206.5 (66, 4)
Total Offense: 345.1 (75, 3)
Scoring Offense: 24.9 (63, 2)
Rushing Defense: 121.8 (26, 1)
Pass Defense: 218.2 (59, 4)
Total Defense: 340.1 (33, 2)
Scoring Defense: 26.2 (57, 3)
Turnover Margin: 0.67 (16, 1)
Sacks Allowed: 1.58 (37, 2)