Sacred Heart Pioneers
Overall Rank: #42
#1 Northeast Conference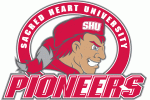 For the second straight season, Sacred Heart won the NEC and did a fine job remaining competitive in the playoffs. Two years ago they were heavy underdogs against Delaware and lost 19-10. Last season the Pioneers went to Holy Cross and lost by just a field goal. Coach Mark Nofri will hope his team can get another opportunity to pull off an upset in the playoffs.
2021 Record: 8-4, 6-1
2021 Postseason: FCS Playoffs
Coach: Mark Nofri (62-47 at Sacred Heart, 62-47 overall)
Offensive Coordinator: Matt Gardner
Defensive Coordinator: Michael Cooke
Returning Leaders:
Rushing: Malik Grant, RB, 1,347 yards
Passing: Marquez McCray, QB, 1,818 yards
Receiving: Rob DiNota, WR, 436 yards
Tackles: DeAndre Byrd, LB, 59
Sacks: Kevin Peprah, DE, 9.5
Interceptions: DeAndre Byrd, LB, 1
Other Key Returnees: WR Kenneth Womack, CB Lamar Evans, CB Frank Alfano, DE Brendan Whitehead
Key Losses: RB Julius Chestnut, WR Naseim Brantley, OL JD Dienzo, OL Josh Sokol, S Salaam Horne, S Shamere Collins, DB Alaam Horne, LB Chris Outterbridge, DB Justice Seales, DT Omar Fraser
Offense:
When Julius Chestnut went down with an injury, Malik Grant stepped up and turned into arguably the best running back in the conference. On the year he rushed for 1,347 yards and nine touchdowns and led Sacred Heart to an 11th overall ranking in the FCS in rushing offense. The Pioneers can certainly get the job done on the ground, but the passing game has an experienced signal caller under center. Marquez McCray threw for 1,818 yards and nine touchdowns with seven interceptions. Senior Rob DiNota led the Pioneers with 41 receptions last season and should lead the way again, but Sacred Heart will need to find a couple new targets that can stretch the field vertically.
Defense:
Coach Nofri has a lot of holes to fill on the defensive side of the ball, but there are a few stars to build around. Kevin Peprah was consistently in the backfield last season and led the Pioneers with 9.5 sacks, 12.0 tackles-for-loss, seven quarterback hurries and four forced fumbles. He will team up with Brendan Whitehead to form a potent pass rushing duo. Much of the rest of the experience is in the secondary where cornerbacks Lamar Evans and Frank Alfano return. Sacred Heart has reloaded in the past and they should do so again. They may not rank fourth in the FCS in total defense again, but they will fill in around their returning stars enough to have the best defense in the NEC.
The Bottom Line:
The NEC schedule is potentially difficult though. Sacred Heart opens conference play with a trip to Central Connecticut State on September 10th. A road trip to Duquesne on November 5th should have huge title implications as well.
2021 Team Stats:
Rushing Offense: 211.3 (11th in nation, 1st in conference)
Passing Offense: 154.9 (109, 6)
Total Offense: 366.2 (57, 2)
Scoring Offense: 19.6 (98, 5)
Rushing Defense: 149.8 (58, 4)
Pass Defense: 118.4 (1, 1)
Total Defense: 268.2 (4, 1)
Scoring Defense: 13.9 (2, 1)
Turnover Margin: -0.17 (76, 6)
Sacks Allowed: 2.75 (100, 5)