North Carolina A&T Aggies
Overall Rank: #44
#1 Big South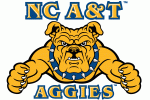 North Carolina A&T enters their second, and final, season in the Big South. The Aggies are heading to the CAA next year. After missing the entire 2020 campaign, NC A&T struggled during their debut in the Big South, finishing just 3-4 in conference play. However, with Kennesaw State and Monmouth now out of the Big South, the Aggies will be right in the mix to earn the conference's automatic bid to the playoffs.
2021 Record: 5-6, 3-4
2021 Postseason: None
Coach: Sam Washington (24-11 at North Carolina A&T, 24-11 overall)
Offensive Coordinator: Chris Barnette
Defensive Coordinator: Thomas Howard and Keith Willis
Returning Leaders:
Rushing: Bhayshul Tuen, RB, 215 yards
Passing: Jalen Fowler, QB, 1,744 yards
Receiving: Jamison Warren, WR, 280 yards
Tackles: Jacob Roberts, LB, 84
Sacks: Jacob Roberts, LB, 5.0
Interceptions: 7 tied with 1
Other Key Returnees: WR Taymon Cooke, LB Joseph Stuckey, LB Tyquan King, DL Karfa Kaba, DE Henry Daniel, DE Janorris Robertson, DE Robert Porcher, DL Shomari Wallace
Key Losses: RB Jah-Maine Martin, RB Kashon Baker, WR Ron Hunt, WR Korey Banks, S Richie Kittles, DB Miles Simon, DB Najee Reams, LB Alex Fumbah, DL Octavious Pringle
Offense:
The Aggies offense struggled at times last season. And they could struggle even more in 2022. Coach Sam Washington will want to establish a strong ground game, but that could prove difficult with leading rushers Jah-Maine Martin and Kashon Baker gone. Bhayshul Tuten showed some promise as a freshman, rushing for 215 yards on 37 carries. The rest of the running backs are all freshmen and redshirt freshmen. That could put a lot of pressure on Jalen Fowler. He is an experienced senior quarterback who threw for 1,774 yards with ten touchdowns and eight interceptions last year. The top two wide receivers are gone, but Jamison Warren caught 24 passes for 280 yards and a score as a freshman and should turn into Fowler's favorite target in 2022.
Defense:
North Carolina A&T will win games with their defense. Linebacker Jacob Roberts is the star of the defense after leading the team with 84 tackles, 12.0 tackles-for-loss and 5.0 sacks. With fellow linebackers Joseph Stuckey and Tyquan King, the center of the Aggies defense is in great shape. The front line is equally impressive. Just about everybody returns to a unit that helped the Aggies total an impressive three sacks per game. The biggest concern is in the secondary where a handful of key contributors will need to be replaced.
The Bottom Line:
Even if the offense struggles to find a ground game and the defense gives up large chunks of yardage through the air, North Carolina A&T should find themselves right in the middle of the fight for a Big South title. The biggest game could come at home on October 29th against Campbell.
2021 Team Stats:
Rushing Offense: 129.5 (81st in nation, 5th in conference)
Passing Offense: 187.9 (83, 7)
Total Offense: 317.4 (93, 7)
Scoring Offense: 22.8 (83, 7)
Rushing Defense: 108.7 (13, 2)
Pass Defense: 237.8 (81, 3)
Total Defense: 346.5 (39, 2)
Scoring Defense: 25.9 (52, 2)
Turnover Margin: -0.18 (78, 7)
Sacks Allowed: 1.82 (48, 3)