St. Bonaventure Bonnies
2021-2022 Overall Rank: #19
Conference Rank: #1 A-10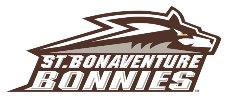 St. Bonaventure won their second A-10 title under the leadership of Coach Mark Schmidt. That was good enough to earn a #9 seed in the NCAA Tournament, but once again the Bonnies fell short during the tournament. Last year Coach Schmidt lacked depth. Five players averaged at least 33 minutes per game. All five of those players are back and that could lead to another conference title, but the hope is a couple transfers will at least give the Bonnies a little bit of depth.
2020-21 Record: 16-5, 11-4
2020-21 Postseason: NCAA
Coach: Mark Schmidt
Coach Record: 242-185 at St. Bonaventure, 324-275 overall
Key Departed Players:
Alejandro Vasquez, Guard, 4.4 ppg
Jalen Shaw, Forward/Center, 1.4 ppg
Key Returning Players:
Kyle Lofton, Senior, Guard, 14.4 ppg
Jaren Holmes, Senior, Guard, 13.8 ppg
Jalen Adaway, Senior, Guard, 12.2 ppg
Dominick Welch, Senior, Guard, 11.4 ppg
Osun Osunniyi, Senior, Forward/Center, 10.7 ppg
Key New Players:
Quadry Adams, RS Freshman, Guard, Transfer from Wake Forest
Linton Brown, Sophomore, Guard, JC Transfer
Abdoul Karim Coulibaly, Sophomore, Forward, Transfer from Pitt
Oluwasegun Durosinmi, Freshman, Forward/Center, JC Transfer
Anouar Mellouk, Freshman, Forward
Justin Ndjock-Tadjore, Freshman, Guard
Pedro Rossi, Freshman, Forward
Brett Rumpel, Freshman, Guard
Joyam Saizonou, Freshman, Guard
Projection:
All five returning players averaged double digits in the scoring column. All five also played great defense and the Bonnies ranked in the top ten in the nation in scoring defense and field-goal defense. A-10 Defensive Player of the Year Osun Osunniyi is a huge reason for that success on that end of the floor. He is a superb rim protector and averaged 2.9 blocks per game on top of his 10.7 points, 9.4 rebounds and 2.4 assists. Point guard Kyle Lofton led the way in the scoring department with his 14.4 points and added a team high 5.5 assists and 1.4 steals. Jaren Holmes and Dominick Welch are the shooters on the team. Holmes had some huge scoring games and has proven that he is much more than just a shooter. Jalen Adaway is the bigger guard who plays at the four spot and does a lot of work on the glass. But the success of St. Bonaventure will depend on how the new faces fill in off the bench. Junior college transfer Oluwasegun Durosinmi could be a solid backup to Osunniyi in the paint and Pitt transfer Abdoul Karim Coulibaly gives Coach Schmidt a power forward to play beside Osunniyi at times. Quadry Adams comes from Wake Forest where he played very sparingly during his freshman campaign, but he will join sharpshooting junior college transfer Linton Brown to add some options on the perimeter.
Projected Postseason Tournament:
NCAA
By the Numbers:
Scoring Offense: 70.0 (202nd in nation, 9th in conference)
Scoring Defense: 61.1 (7, 1)
Field-Goal Percentage: 44.3 (163, 7)
Field-Goal Defense: 38.9 (6, 1)
Three-Point Field Goals Per Game: 6.4 (258, 11)
Three-Point Field-Goal Percentage: 34.4 (142, 6)
Free-Throw Percentage: 73.8 (73, 2)
Rebound Margin: 3.2 (76, 4)
Assists Per Game: 14.6 (77, 4)
Turnovers Per Game: 10.7 (18, 2)