Arizona State Sun Devils
Overall Rank: #40
Conference Rank: #6 Pac-12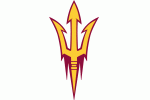 Arizona State finished last season with a sub .500 Pac-12 record for just the second time since 2000. With history like that, last season was likely an anomaly. And even in a bad season, the Sun Devils managed to reach the WNIT and finish 12-12 overall. Coach Charli Turner Thorne returns four starters and a nice group of newcomers to help start a new NCAA Tournament streak in 2021-2022.
2020-21 Record: 12-12, 6-9
2020-21 Postseason: WNIT
Coach: Charli Turner Thorne
Coach Record: 476-280 at Arizona State, 516-320 overall
Key Departed Players (starters in bold)
Eboni Walker, Forward, 7.4 ppg
Sydnei Caldwell, Guard, 4.4 ppg
Iris Mbulito, Guard/Forward, 2.9 ppg
Jamie Loera, Guard, 2.8 ppg
Key Returning Players (starters in bold)
Taya Hanson, Senior, Guard, 12.6 ppg
Jaddan Simmons, Sophomore, Guard, 10.8 ppg
Katelyn Levings, Sophomore, Forward, 5.7 ppg
Maggie Besselink, Sophomore, Guard/Forward, 5.1 ppg
Jayde Van Hyfte, Senior, Forward, 3.0 ppg
Imogen Greenslade, Sophomore, Center, 1.4 ppg
Gabriela Bosquez, Senior, Guard, 1.2 ppg
Sydney Erikstrup, Sophomore, Guard, 0.8 ppg
Key New Players
Ayzhiana Basallo, Senior, Guard, Transfer from San Jose State
Mael Gilles, Senior, Forward, Transfer from Rutgers
Jade Loville, Senior, Guard/Forward, Transfer from Boise State
Meg Newman, Freshman, Forward
Isadora Sousa, Junior, Guard, JC Transfer
Projection:
Taya Hanson will be the senior leader of this group. She led the team with 12.6 points and added 4.3 rebounds. Hanson was also the only player that was a threat at all to hit a three-pointer last season. The team as a whole made just 5.2 three-pointers per game at a 26.4 percent clip. Hanson made nearly half of the team's long balls and connected on 34.4 percent of her attempts. Jaddan Simmons is a good scorer when attacking the basket and the point guard averaged 10.8 points and 2.7 assists during her freshman campaign. Wing Maggie Besselink had a very promising freshman year as well, averaged 5.1 points and a team high 5.7 rebounds. Katelyn Levings is yet another sophomore who earned a starting role as a freshman. The 6-3 forward averaged 5.7 points and 4.2 rebounds. The return of Jayde Van Hyfte will add an experienced presence in the frontcourt. She missed nearly all of last season, but was a starter in 2019-2020. All five newcomers have the potential to make a big impact and that will provide the Sun Devils with the depth they need to creep up the conference standings. Jade Loville was a starter at Boise State last season and averaged 17.1 points per game. Mael Gilles comes from Rutgers where she has been a starter for the last two years. Ayzhiana Basallo could be the answer to ASU's shooting problems. Two years ago, at San Jose State, she hit 45.4 percent of her attempts from beyond the arc and averaged 18.5 points per game. Junior college All-American Isadora Sousa is a proven shooter as well and incoming freshman Meg Newman will add another dynamic to the frontcourt.
Projected Postseason Tournament:
NCAA
By the Numbers:
Scoring Offense: 54.0 (315th in nation, 11th in conference)
Scoring Defense: 56.7 (23, 3)
Field-Goal Percentage: 33.3 (327, 12)
Field-Goal Defense: 41.0 (207, 9)
Three-Point Field Goals Per Game: 5.2 (232, 11)
Three-Point Field-Goal Percentage: 26.4 (307, 11)
Free-Throw Percentage: 71.0 (148, 6)
Rebound Margin: 1.1 (129, 6)
Assists Per Game: 11.8 (230, 8)
Turnovers Per Game: 16.0 (187, 9)
Madness 2021 Women's Basketball Recruit Rankings: