Loyola Marymount Lions
2021-2022 Overall Rank: #51
Conference Rank: #3 West Coast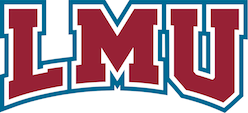 It has been over 30 years since Loyola Marymount reached the NCAA Tournament. That was the epic and tragic season when the Lions were led by Hank Gathers and Bo Kimble. Reaching that level of success would be a stretch for this group, but second-year Coach Stan Johnson has a team that can reach the NCAA Tournament. With five starters back and four Division I transfers, LMU has the weapons to make some serious noise in the West Coast Conference.
2020-21 Record: 13-9, 7-5
2020-21 Postseason: None
Coach: Stan Johnson
Coach Record: 13-9 at Loyola Marymount, 13-9 overall
Key Departed Players:
Mattias Markusson, Center, 9.7 ppg
Parker Dortch, Forward, 1.7 ppg
Kodye Pugh, Forward, 1.5 ppg
Key Returning Players:
Eli Scott, Senior, Guard/Forward, 18.0 ppg
Dameane Douglas, Junior, Guard/Forward, 13.5 ppg
Keli Leaupepe, Junior, Forward, 10.5 ppg
Joe Quintana, Senior, Guard, 9.3 ppg
Jalen Anderson, Sophomore, Guard, 7.1 ppg
Ivan Alipiev, Senior, Forward, 7.0 ppg
Quentin Jackson Jr, Senior, Guard, 3.8 ppg
Moyoum Mayoum, Sophomore, Guard
Key New Players:
David Elliott IV, Freshman, Guard
Gary Harris, Sophomore, Guard, Transfer from Temple
Lamaj Lewis, Freshman, Guard
Kwane Marble, Junior, Guard, Transfer from Wyoming
Moyoum Mayoum, Sophomore, Guard
Alex Merkvilodze, Sophomore, Forward, Transfer from CSUN
James Nobles, Freshman, Guard
Cam Shelton, Senior, Guard, Transfer from Northern Arizona
Projection:
Eli Scott, a 6-6 wing, had another great campaign in 2020-2021. For the second year in a row, he led the Lions in points, rebounds and assists, finishing the season with 18.0 points, 8.2 rebounds and 3.6 assists. Dameane Douglas is another big wing who is very efficient scoring in the paint. Like Scott, he too is a great rebounder and a versatile player. Joe Quintana was by far the most effective and efficient three-point shooter last season, connecting on 42.9 percent of his team high 91 attempts. Jalen Anderson will again run the point after dishing out 3.4 assists and adding 7.1 points. Keli Leaupepe is a 6-6 forward who will be asked to play a larger role with the departure of Mattias Markusson. Leaupepe was very productive last season, averaging 10.5 points and 4.8 rebounds, but now he and 6-8 forward Ivan Alipiev will be asked to do more work in the paint. They will get some help from Alex Merkvilodze, a sophomore transfer from Cal State Northridge. The most impactful newcomer though should be Cam Shelton. He spent three great seasons at Northern Arizona where he averaged 19.2 points, 5.9 rebounds, 4.2 assists and 1.5 steals last season. Kwane Marble has been a part time starter at Wyoming the last two years and Gary Harris was a part-time starter at Siena as a freshman back in 2019-2020. This could be a very special season for Loyola Marymount. They now have the depth they need to make a serious run towards the NCAA Tournament.
Projected Postseason Tournament: NIT
By the Numbers:
Scoring Offense: 69.5 (221st in nation, 7th in conference)
Scoring Defense: 68.0 (104, 2)
Field-Goal Percentage: 45.8 (78, 4)
Field-Goal Defense: 44.5 (219, 7)
Three-Point Field Goals Per Game: 6.1 (282, 7)
Three-Point Field-Goal Percentage: 33.8 (171, 5)
Free-Throw Percentage: 72.6 (108, 5)
Rebound Margin: 7.8 (14, 1)
Assists Per Game: 12.7 (207, 6)
Turnovers Per Game: 16.0 (320, 10)