Sam Houston Bearkats
Overall Rank: #1
#1 ASUN/WAC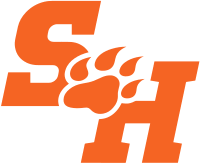 Sam Houston certainly earned their national championship. The Bearkats beat three top 25 teams in their six-game regular season schedule. The route through the playoffs was also brutal. SHSU played Monmouth in the first round and beat them 21-15. They then ran into a North Dakota State that won eight of the previous nine national titles. In the semifinals, they had to face #1 in the AP Poll, James Madison, before slipping past #2 South Dakota State in the finals.
2020-21 Record: 10-0, 6-0
2020-21 Postseason: FCS Playoffs
Coach: K.C. Keeler (69-22 at Sam Houston State, 243-95-1 overall)
Offensive Coordinator: Ryan Carty
Defensive Coordinator: Clayton Carlin
Returning Leaders:
Rushing: Ramon Jefferson, RB, 752 yards
Passing: Eric Schmid, QB, 2,808 yards
Receiving: Jequez Ezzard, WR, 861 yards
Tackles: Trevor Williams, LB, 88
Sacks: Markel Perry, LB, 6.5
Interceptions: Isaiah Downes, DB, 2; Tristin McCollum, DB, 2
Other Key Returnees: RB Noah Smith, WR Ife Adeyi, WR Cody Chrest, TE Isaac Schley, OL Colby Thomas, DB Braiden Clopton, LB Quintin Brown, DB Zyon McCollum, DB Jaylen Thomas, DB Kameryn Alexander, DL Jahari Kay, DL Joseph Wallace, DL Jevon Leon, DL Trace Mascorro, K Serth Morgan, P Matt McRobert
Key Losses: None
Offense:
Eric Schmid is back to lead a very potent offense. He threw for 2,808 yards and 20 touchdowns and ran for 436 yards and eight more scores. Wide receiver Jequez Ezzard transferred in from Howard and continued to have a great collegiate career. He caught 38 passes for 861 yards and nine touchdowns. He ran for a score as well and recorded two more touchdowns as a punt returner. Cody Chrest and Ife Adeyi each caught at least 30 passes last season and provide Schmid with plenty of talented targets down the field. Ramon Jefferson will again operate a talented offensive line. In the spring, Jefferson rushed for 752 yards and seven touchdowns.
Defense:
The defense dominated the Southland last season and the story will be the same in the WAC. There is depth and talent across the board. On the line, Jahari Kay, Trace Mascorro and Joseph Wallace are all experienced seniors who can dominate the point of attack. It is not just the defensive front that can get in the backfield. Linebacker Markel Perry led the team with 6.5 sacks and fellow linebacker Trevor Williams tallied 15.0 tackles-for-loss. Williams also led the team with 88 tackles. Zyon McCollum highlights a very deep and talented secondary. Jaylen Thomas, Isaiah Downes, Tristin McCollum and Dameryn Alexander are all quality playmakers and Coach Keeler has a wealth of talent and experience in the secondary and everywhere else on the defense.
The Bottom Line:
Repeating as champions is never easy, but this is almost literally the exact same team that did it in the spring. With a Walter Payton Award candidate at quarterback and enough depth everywhere else, Sam Houston has everything they need to win another title. The most interesting games will likely be at Central Arkansas on September 25th and at home against Jacksonville State on October 23rd.
Projected Postseason: FCS Playoffs
2020-21 Team Stats:
Rushing Offense: 158.8 (34th in nation, 5th in conference)
Passing Offense: 281.5 (13, 5)
Total Offense: 440.3 (13, 6)
Scoring Offense: 37.5 (9, 4)
Rushing Defense: 94.9 (11, 1)
Pass Defense: 262.1 (86, 7)
Total Defense: 357.0 (47, 1)
Scoring Defense: 19.6 (22, 1)
Turnover Margin: 0.70 (20, 4)
Sacks Allowed: 1.70 (30, 1)