Saint Louis Billikens
2021-2022 Overall Rank: #69
Conference Rank: #4 A-10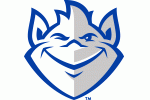 Saint Louis has been a very good team over the last three years. Last year included an entire month of cancelled contests and it was tough for the Billikens to regain their form through a start and stop season. Still, Coach Travis Ford's team went 14-6 during the regular season and earned a spot in the NIT. That was not the tournament SLU was aiming for but, all things considered, it was not a terrible way to end the campaign.
2020-21 Record: 14-7, 6-4
2020-21 Postseason: NIT
Coach: Travis Ford
Coach Record: 89-65 at Saint Louis, 434-322 overall
Key Departed Players:
Jordan Goodwin, Guard, 14.5 ppg
Hasahn French, Forward, 9.2 ppg
Demarius Jacobs, Guard, 4.9 ppg
Jimmy Bell Jr, Forward, 1.9 ppg
Key Returning Players:
Javonte Perkins, Senior, Guard/Forward, 17.1 ppg
Gibson Jimerson, Freshman, Guard, 7.8 ppg
Marten Linssen, Junior, Forward, 5.5 ppg
Fred Thatch Jr, Sophomore, Guard, 5.4 ppg
Yuri Collins, Sophomore, Guard, 5.1 ppg
Terrence Hargrove Jr, Sophomore, Forward, 4.2 ppg
Markhi Strickland, Freshman, Guard/Forward, 2.6 ppg
Andre Lorentsson, Freshman, Forward, 0.5 ppg
Key New Players:
Kyle Engstler, Freshman, Guard/Forward
DeAndre Jones, Senior, Guard, Transfer from Central Arkansas
Jordan Nesbitt, Freshman, Guard, Transfer from Memphis
Francis Okoro, Junior, Forward, Transfer from Oregon
Lassina Traore, Freshman, Forward
Rashad Williams, Junior, Guard, Transfer from Oakland
Projection:
Losing the dynamic Jordan Goodwin could keep the Billikens at the NIT level. Goodwin averaged 14.5 points, 10.1 rebounds, 3.9 assists and 2.0 steals last year. He is now with the Washington Wizards. Forward Hasahn French is also playing professionally after tallying 9.2 points, 7.4 rebounds, 2.4 assists and 1.4 blocks in 2020-2021. Saint Louis does have a superstar returning though. Javonte Perkins led the team with 17.1 points per game and knocked down a team high 38 three-pointers. At least to start the season, Perkins will be asked to cover even more scoring in 2021-2022. Gibson Jimerson, Yuri Collins and Fred Thatch Jr. are all young guards with a lot of potential. Jimerson is the shooter of the bunch and Collins averaged an impressive 6.1 assists per game during his second season with the program. Marten Linssen and Terrence Hargrove are the most experienced returning frontcourt options and they will be joined by Oregon transfer Francis Okoro. Okoro was never much of a scorer during his time with the Ducks, but the two-year starter will help keep Saint Louis solid on the glass and block a shot or two as well. Coach Ford also picked up a couple new scorers for the backcourt. DeAndre Jones was a four-year starter at Central Arkansas and averaged 12.9 points and 6.0 assists during a great 2019-2020 season. In that same year, Rashad Williams averaged 19.5 points with Oakland.
Projected Postseason Tournament: NIT
By the Numbers:
Scoring Offense: 75.0 (77th in nation, 2nd in conference)
Scoring Defense: 65.4 (49, 4)
Field-Goal Percentage: 46.2 (62, 4)
Field-Goal Defense: 41.9 (90, 5)
Three-Point Field Goals Per Game: 6.5 (248, 8)
Three-Point Field-Goal Percentage: 34.8 (122, 4)
Free-Throw Percentage: 70.4 (191, 7)
Rebound Margin: 8.9 (8, 1)
Assists Per Game: 17.6 (7, 1)
Turnovers Per Game: 12.1 (100, 5)