Boise State Broncos
2021-2022 Overall Rank: #80
Conference Rank: #4 Mountain West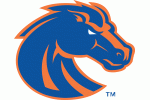 Outside of a terribly disappointing 2018-2019 season, Coach Leon Rice has had Boise State staying extremely competitive in the Mountain West. The shortened schedule was the only thing that prevented the Broncos from winning 20 games for the eighth time since joining the conference ten years ago. While the NCAA Tournament has been painfully out of reach for the last six seasons, we can be sure that Boise State will be right in the mix for a berth yet again.
2020-21 Record: 19-9, 14-6
2020-21 Postseason: NIT
Coach: Leon Rice
Coach Record: 217-137 at Boise State, 217-137 overall
Key Departed Players:
Derrick Alston Jr, Guard, 17.0 ppg
RayJ Dennis, Guard, 8.6 ppg
Key Returning Players:
Abu Kigab, Senior, Forward, 11.8 ppg
Marcus Shaver Jr, Senior, Guard, 10.6 ppg
Mladen Armus, Senior, Forward, 8.1 ppg
Emmanuel Akot, Senior, Guard, 9.1 ppg
Devonaire Doutrive, Senior, Guard, 8.9 ppg
Max Rice, Junior, Guard, 5.9 ppg
Lukas Milner, Senior, Center, 2.5 ppg
Pavle Kuzmanovic, Sophomore, Guard, 1.6 ppg
Burke Smith, Sophomore, Forward, 1.3 ppg
Kasean Pryor, Sophomore, Guard, 1.2 ppg
Key New Players:
Tyson Degenhart, Freshman, Forward
RJ Keene, Freshman, Guard
Kobe Young, Freshman, Guard
Projection:
Losing Derrick Alston to the professional ranks and RayJ Dennis to the transfer portal hurts, but Coach Rice still has five players back who averaged at least 8.9 points per game in 2020-2021. The backcourt senior trio of Marcus Shaver, Emmanuel Akot and Devonaire Doutrive is ready to pick up the slack. Shaver is the most dynamic scorer of the bunch. He is aggressive attacking the basket and also led the Broncos with a 39.8 percent three-point field-goal percentage. Akot will handle the ball more often after dishing out 2.6 assists. Doutrive came to Boise from Arizona and started to make a larger impact after missing the first semester. He tallied double digit scoring in five of the team's last six games. Max Rice will again provide a quality shooting option off the bench. The frontcourt returns both starters in Abu Kigab and Mladen Armus. Kigab, a 6-7 senior, is a capable outside shooter and finished last season second on the team with 11.8 points and 5.4 rebounds. Armus is the big body in the paint. He led the team with 7.8 rebounds per game and is a consistent interior scorer. Losing a leader like Alston is not a good thing, but Boise State has plenty of experienced options ready to fill the void. That should lead the Broncos to another good season, but maybe another season without an NCAA Tournament berth.
Projected Postseason Tournament: NIT
By the Numbers:
Scoring Offense: 75.8 (67th in nation, 2nd in conference)
Scoring Defense: 66.7 (69, 3)
Field-Goal Percentage: 45.5 (89, 2)
Field-Goal Defense: 43.1 (152, 6)
Three-Point Field Goals Per Game: 7.9 (110, 5)
Three-Point Field-Goal Percentage: 34.6 (126, 6)
Free-Throw Percentage: 73.5 (79, 3)
Rebound Margin: 2.9 (87, 6)
Assists Per Game: 13.5 (144, 6)
Turnovers Per Game: 11.7 (70, 3)