Monmouth Hawks
Overall Rank: #13
#1 Big South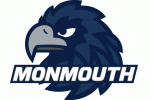 Monmouth has emerged as the team to beat in the Big South. They have reached the playoffs three times in the last four seasons. The Hawks only played three regular season games in the spring, but beat Charleston Southern, Gardner-Webb and Kennesaw State with ease. That was enough to get them to the playoffs where they nearly upset Sam Houston in the first round.
2020-21 Record: 3-1, 3-0
2020-21 Postseason: FCS Playoffs
Coach: Kevin Callahan (166-125 at Monmouth, 166-125 overall)
Offensive Coordinator: Jeff Gallo
Defensive Coordinator: Andy Bobik
Returning Leaders:
Rushing: Juwon Farri, RB, 520 yards
Passing: Tony Muskett, QB, 1,039 yards
Receiving: Terrance Greene Jr, WR, 425 yards
Tackles: Da'Quan Grimes, LB, 32
Sacks: Kahari Scarlett, DL, 3.5
Interceptions: Anthony Budd, DB, 2
Other Key Returnees: WR Lonnie Moore, WR Zach Tredway, TE Gene Scott, OL AJ Farris, OL Justin Szuba, OL Mahmoud Shabana, LB Eddie Hahn, DB Tyrese Wright, DB Eddie Morales, DL Lorenzo Hernandez, DL Erik Massey, DB Justin Terry, P Ryan Kost
Key Losses: RB Romeo Holden, DL Kurt Aumer
Offense:
The offense is loaded with talent. Running back Juwon Farri had a breakout spring, rushing for 520 yards and ten touchdowns in four games. He will be the workhorse for the offense. Quarterback Tony Muskett stepped into the starting job as a true freshman in the spring and threw for 1,039 yards and nine touchdowns. He completed 62.5 percent of his passes and was only intercepted twice. Terrance Greene and Lonnie Moore were Muskett's favorite targets in the spring and both are back. Tight end Gene Scott will get involved in the passing game on occasion, but he is also a great blocker. Speaking of blockers, the offensive line has talent and experience at all spots and will pave the way for what should be the best offense in the Big South.
Defense:
The defense played well in the spring, most notably allowing just 17 points against Kennesaw State and 21 points in the playoff loss to Sam Houston. The Hawks led the FCS with 4.5 sacks per game. Lineman Kahari Scarlett led the way with 3.5 sacks. Erik Massey and Lorenzo Hernandez will also make plays from the front line. At linebacker, Da'Quan Grimes tallied a team high 32 tackles and recorded a couple sacks too. Fellow linebacker Eddie Hahn was second on the team with 27 tackles. The secondary will again be led by Anthony Budd, who intercepted two passes, and All-Conference honorees Eddie Morales and Justin Terry.
The Bottom Line:
Monmouth and Kennesaw State have dominated the Big South, but now there is another team that is expected to compete with those two. North Carolina A&T is moving to the Big South and should help boost the overall talent of the conference. The bad news for Monmouth is that they have to play both North Carolina A&T and Kennesaw State on the road.
Projected Postseason: FCS Playoffs
2020-21 Team Stats:
Rushing Offense: 182.0 (18th in nation, 2nd in conference)
Passing Offense: 259.8 (17, 1)
Total Offense: 441.8 (12, 1)
Scoring Offense: 35.0 (11, 1)
Rushing Defense: 99.2 (13, 1)
Pass Defense: 196.2 (47, 3)
Total Defense: 295.5 (22, 2)
Scoring Defense: 18.5 (17, 2)
Turnover Margin: 1.25 (5, 1)
Sacks Allowed: 2.50 (68, 3)