North Carolina A&T Aggies
Overall Rank: #16
#2 Big South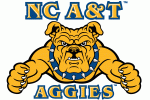 North Carolina A&T is off to the Big South after recently dominating the MEAC. The Aggies won MEAC titles in 2014, 2015, 2017, 2018 and 2019. They did not play in 2020. Coach Sam Washington has completed two seasons leading the program and has come away with two Celebration Bowl victories. Now they will be eyeing a spot in the playoffs and a conference title in their new home.
2020-21 Record: 0-0, 0-0
2020-21 Postseason: None
Coach: Sam Washington (19-5 at North Carolina A&T, 19-5 overall)
Offensive Coordinator: Chris Barnette
Defensive Coordinator: Courtney Coard
Returning Leaders: (2019 Stats)
Rushing: Jah-Maine Martin, RB, 1,446 yards
Passing: Jalen Fowler, QB, 262 yards
Receiving: Zach Leslie, WR, 652 yards
Tackles: Kyin Howard, LB, 79
Sacks: Jermaine McDaniel, DE, 7.5
Interceptions: Jacob Roberts, LB, 2; Joseph Stuckey, LB, 2
Other Key Returnees: RB Kashon Baker, QB Kingsley Ifedi, WR Korey Banks, WR Quinzel Lockhart, OL Dacquari Wilson, LB Alex Fumbah, DB Najee Reams, DB Amir McNeill, P Mike Rivers
Key Losses: QB Kylil Carter, WR Elijah Bell, OL Marcus Pettiford, OL Dontae Keys, DL Justin Cates, DB Chris Moseley, LB Antoine Wilder, DB Mac McCain, K Noel Ruiz
Offense:
Running back Jah-Maine Martin rushed for 1,446 yards and 23 touchdowns in 2019. The Aggies had the 11th most potent ground game in the FCS during that season and they will once again rely heavily Martin to keep the offense moving. Jalen Fowler was the backup quarterback in 2019 and threw for 262 yards with three touchdowns and zero interceptions in limited opportunities. Kingsley Ifedi is a speedy dual threat quarterback who will compete with Fowler for the starting job. With an experienced wide receiver corps led by Korey Banks, Zach Leslie and Quinzel Lockhart, the passing game should be able to compliment the proven ground attack.
Defense:
During their tremendous runs through the MEAC in recent years, North Carolina A&T boasted a superb defense. That should not change in the Big South. Kyin Howard is a great leader in the middle of the defense and tallied a team high 79 tackles in 2019. The next three leading tacklers are also back in linebackers Joseph Stuckey, Jacob Roberts and Alex Fumbah. Jermaine McDaniel arrived at North Carolina A&T prior to the 2019 campaign and made a huge impact right away, tallying 7.5 sacks, 12.0 tackles-for-loss and 40 total tackles. The secondary has a couple proven commodities returning with Najee Reams and Amir McNeill, but there is room for improvement in the passing defense.
The Bottom Line:
The Big South is going to provide a new challenge for the Aggies. Games against Kennesaw State and Monmouth in late October will really show where this program is compared to the rest of the Big South.
Projected Postseason: FCS Playoffs
2020-21 Team Stats: