Albany Great Danes
Overall Rank: #22
#4 CAA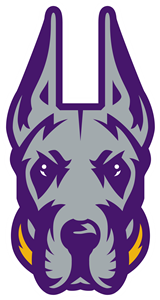 Albany had a disappointing spring. After beating New Hampshire in their opener, the Great Danes lost to Maine, Rhode Island and Stony Brook. But in 2019 Albany went 9-5 overall and 6-2 in the CAA and reached the playoffs. With one of the best quarterbacks in the game and plenty of talent around him, Albany should quickly put the spring behind them.
2020-21 Record: 1-3, 1-3
2020-21 Postseason: None
Coach: Greg Gattuso (34-40 at Albany, 131-72 overall)
Offensive Coordinator: Joe Davis
Defensive Coordinator: Joe Bernard
Returning Leaders:
Rushing: Karl Mofor, RB, 460 yards
Passing: Jeff Undercuffler, QB, 556 yards
Receiving: Mike Gray, WR, 187 yards
Tackles: Danny Damico, LB, 34
Sacks: Jared Verse, DL, 4.0
Interceptions: Danny Damico, LB, 1
Other Key Returnees: QB Joey Carino, WR Jackson Parker, WR Tyler Oedekoven, LB AJ Mistler, DB Tyler Carswell, DL Mazon Walker
Key Losses: DB Hayden Specht
Offense:
Jeff Undercuffler threw for 3,543 yards and 41 touchdowns as a freshman in the 2019 campaign. The passing attack was nowhere near as potent in the spring and Undercuffler threw for 556 yards and six touchdowns in three games before an injury ended his season. Most of Undercuffler's favorite targets from 2019 are gone, but Mike Gray, Jackson Parker and Tyler Oedekoven are all younger receivers who had solid springs and should grow into larger roles this fall. Karl Mofor rushed for 1,290 yards and ten touchdowns in 2019. Once again, the numbers dropped in the spring as Mofor only averaged 4.0 yards per carry. Once the passing game picks up, Mofor should easily regain his status as a 1,000-yard rusher.
Defense:
The front line, led by Jared Verse and Mazon Walker will get into the backfield consistently. But that did not lead to the creation of many turnovers. The Great Danes intercepted just one pass in those four games. They only recovered two fumbles too. Danny Damico and AJ Mistler are experienced linebackers and the secondary did do a great job stopping the pass. If the defense can play as well as they did in the spring, but start creating a few more turnovers, it will go a long way in turning some of those close losses into close wins.
The Bottom Line:
Albany should be able to put the spring season behind them pretty quickly. However, the schedule starts off extremely tough. Three of their first four games are on the road at North Dakota State, Syracuse and Delaware. Nobody would blame the Great Danes for losing those three games. And the home game is against a surprisingly tough Rhode Island team. Albany will need to start strong or their playoff hopes could be all but gone by early October.
Projected Postseason: None
2020-21 Team Stats:
Rushing Offense: 118.8 (66th in nation, 9th in conference)
Passing Offense: 171.5 (68, 6)
Total Offense: 290.2 (78, 8)
Scoring Offense: 18.8 (72, 8)
Rushing Defense: 128.2 (32, 5)
Pass Defense: 144.2 (7, 2)
Total Defense: 272.5 (11, 4)
Scoring Defense: 24.0 (44, 6)
Turnover Margin: -1.25 (90, 11)
Sacks Allowed: 2.00 (38, 4)