Colgate Raiders
2021-2022 Overall Rank: #90
Conference Rank: #1 Patriot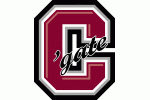 For the third straight season, Colgate won at least a share of the Patriot League title. Unlike in the 2019 NCAA Tournament when the Raiders pushed #2 seed Tennessee to the final minute, Colgate was beaten relatively easily by Arkansas in the 2021 tournament. Despite the loss of star Jordan Burns and his team high 16.8 points per game, Colgate should get another opportunity in 2022 to pull off an NCAA Tournament upset.
2020-21 Record: 14-2, 11-1
2020-21 Postseason: NCAA
Coach: Matt Langel
Coach Record: 153-153 at Colgate, 153-153 overall
Key Departed Players:
Jordan Burns, Guard, 16.8 ppg
David Maynard, Guard, 2.3 ppg
Key Returning Players:
Jack Ferguson, Senior, Guard, 12.5 ppg
Nelly Cummings, Senior, Guard, 12.4 ppg
Tucker Richardson, Senior, Guard, 11.6 ppg
Keegan Records, Junior, Forward, 9.1 ppg
Jeff Woodward, Sophomore, Center, 8.0 ppg
Ryan Moffatt, Junior, Guard/Forward, 5.3 ppg
Oliver Lynch-Daniels, Senior, Guard, 3.7 ppg
Sam Thompson, Sophomore, Forward, 2.6 ppg
Alex Capitano, Sophomore, Guard, 2.5 ppg
Key New Players:
Nicolas Louis-Jacques, Freshman, Guard
Projection:
Colgate boasted the second best offense in the country last season, averaging 85.2 points per game. The Raiders only played 16 games and nearly all of those were against conference foes. That will inflate the numbers a bit, but this was still a great offense. And it still will be. Jack Ferguson has spent nearly his entire four-year career at Colgate coming off the bench, but he has filled that role amazingly well. Last year he averaged 12.5 points and 4.6 rebounds per game and shot an impressive 50.7 percent from beyond the arc. Fellow guards Nelly Cummings and Tucker Richardson are good shooters too. Richardson also added 5.8 rebounds, 4.3 assists and 1.3 steals. The frontcourt has a couple solid players in Keegan Records and Jeff Woodward. Both are big bodies who can eat space in the paint, do some scoring, block a few shots and hit the glass. Once again Colgate should dominate the Patriot League and return to their third straight NCAA Tournament.
Projected Postseason Tournament:
NCAA
By the Numbers:
Scoring Offense: 85.2 (2nd in nation, 1st in conference)
Scoring Defense: 69.6 (153, 3)
Field-Goal Percentage: 49.3 (12, 1)
Field-Goal Defense: 41.0 (50, 1)
Three-Point Field Goals Per Game: 9.2 (27, 1)
Three-Point Field-Goal Percentage: 40.3 (3, 1)
Free-Throw Percentage: 72.3 (121, 4)
Rebound Margin: 4.8 (45, 1)
Assists Per Game: 17.6 (6, 1)
Turnovers Per Game: 10.8 (23, 1)