Florida A&M Rattlers
Overall Rank: #24
#1 SWAC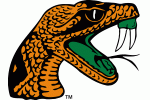 Florida A&M left the MEAC in style, finishing with a 7-1 record in conference play in 2019 and 9-2 overall. It was a program defining season. But the Rattlers sat out all of 2020 and will now have to recapture that momentum heading into their new conference in 2021.
2020-21 Record: 0-0, 0-0
2020-21 Postseason: None
Coach: Willie Simmons (15-7 at Florida A&M, 36-18 overall)
Offensive Coordinator: Kenneth Black, Ryan Stanchek
Defensive Coordinator: Ryan Smith, Brandon Sharp
Returning Leaders: (2019 Stats)
Rushing: Bishop Bonnett, RB, 372 yards
Passing: Rasean McKay, QB, 538 yards
Receiving: Xavier Smith, WR, 1,159 yards
Tackles: Markquese Bell, DB, 61
Sacks: Renaldo Flowers Jr, DL, 4.5
Interceptions: Markquese Bell, DB, 5
Other Key Returnees: RB Terrell Jennings, OL Keenan Forbes. LB Derrick Mayweather, DB Eric Smith, DB Troy Hilton, P/K Chris Faddoul
Key Losses: RB Davonn Kendrick, QB Ryan Stanley, WR David Monigo, WR Marcus Williams, WR Azende Rey, LB Elijah Richardson, DB Terry Jefferson, K Yahia Aly
Offense:
Ryan Stanley finished his career at Florida A&M by throwing for 2,566 yards and 23 touchdowns in the Rattlers 9-2 season. Replacing him is the big question for this team heading into 2021. Rasean McKay has been a backup to Stanley and has the most experience, but there are a few others competing for the job, including Kansas State transfer John Holcombe. The new quarterback will have plenty of talented pass catchers to work with. Xavier Smith led the MEAC with 71 receptions in 2019 and totaled 1,159 yards and 11 touchdowns. There is room for improvement on the ground, Bishop Bonnett led the squad with 372 rushing yards in 2019 and now there should be plenty of depth with the return of injured Eddie Tillman and Savannah State transfer Jalyn McCloud.
Defense:
The defense returns a couple proven stars in Markquese Bell and Renaldo Flowers. Bell, a senior safety, recorded five interceptions in 2019 and was third on the team with 61 tackles. He also forced two fumbles. With Eric Smith and Troy Hilton also returning, the secondary should be in great shape. Flowers led the Rattlers with 4.5 sacks and will again spearhead the pass rush. Derrick Mayweather leads a group of linebackers that will need to find another playmaker or two.
The Bottom Line:
Florida A&M should make a big splash in their new conference. The season begins with the Orange Blossom Classic against a very good Jackson State team with SWAC title aspirations of their own. A win there and Florida A&M will make a statement to the rest of the conference and could take that momentum to a conference title.
Projected Postseason: None
2020-21 Team Stats: