Wofford Terriers
2021-2022 Overall Rank: #92
Conference Rank: #2 SoCon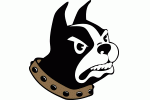 Coach Jay McAuley has had two decent seasons leading the Wofford program. The expectations are pretty high though after the Terriers won an NCAA Tournament game in 2019. Losing Storm Murphy and Tray Hollowell to the transfer portal hurts, but this is still a talented group that should again compete for a Southern Conference title.
2020-21 Record: 15-9, 12-5
2020-21 Postseason: None
Coach: Jay McAuley
Coach Record: 34-24 at Wofford, 34-24 overall
Key Departed Players:
Storm Murphy, Guard, 17.8 ppg
Tray Hollowell, Guard, 11.1 ppg
Key Returning Players:
Messiah Jones, Junior, Forward, 10.3 ppg
Morgan Safford, Sophomore, Guard, 9.3 ppg
Max Klesmit, Sophomore, Guard, 8.2 ppg
B.J. Mack, Junior, Forward/Center, 6.8 ppg
Sam Godwin, Sophomore, Forward, 6.2 ppg
Ryan Larson, Senior, Guard, 5.9 ppg
David Appelgren, Senior, Center, 2.8 ppg
Keaton Turner, Sophomore, Guard, 2.3 ppg
Jackson Gore, Sophomore, Guard, 2.0 ppg
Austin Patterson, Sophomore, Guard, 1.5 ppg
Isaiah Bigelow, Junior, Guard, dnp last season
Alex Michael, Senior, Forward, dnp last season
Key New Players:
Dante Kiesenhofer, Freshman, Forward
Corey Tripp, Freshman, Guard
Luke Turner, Freshman, Guard/Forward
Projection:
Messiah Jones will be the anchor in the frontcourt on both ends of the floor. The 6-6 junior led the squad with 5.1 rebounds per game last year and added 10.3 points. Jones proved to be very efficient in the paint, shooting an impressive 64.7 percent from the floor. B.J. Mack and Sam Goodwin were both productive frontcourt options last season as well. Mack can stretch the floor with his outside shooting ability and Goodwin proved to be another efficient scorer around the basket. Morgan Safford, Max Klesmit and Ryan Larson will have to emerge as the team's leaders in the backcourt. Safford and Klesmit both earned some All-Freshman accolades and are now ready to take on larger roles. Larson is the senior leader on this team and could be in for a big senior season. Larson has not been asked to do much scoring during his time with the Terriers, but he is a very consistent outside shooter and is a solid rebounder, passer and defender. Isaiah Bigelow will also help replace the departed players on the perimeter. He missed last season with an injury, but is a big 6-7 guard who averaged 5.4 points and 3.0 rebounds as a freshman two years ago. This will be an interesting season for the Terriers. They are a talented team, but they lost their top two players and it may take some time for the group to come together.
Projected Postseason Tournament: CBI/CIT
By the Numbers:
Scoring Offense: 74.3 (94th in nation, 7th in conference)
Scoring Defense: 67.8 (99, 3)
Field-Goal Percentage: 47.0 (44, 3)
Field-Goal Defense: 43.6 (182, 4)
Three-Point Field Goals Per Game: 10.2 (7, 2)
Three-Point Field-Goal Percentage: 35.5 (90, 5)
Free-Throw Percentage: 70.5 (189, 6)
Rebound Margin: 2.0 (119, 6)
Assists Per Game: 14.6 (75, 6)
Turnovers Per Game: 12.8 (139, 6)