Arizona State Sun Devils
Overall Rank: #26
#5 Pac-12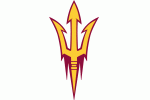 Arizona State finished the regular season 7-5 in each of Coach Herm Edwards' first two seasons leading the program. Last year was barely a season. The Sun Devils lost at USC by one point in their opener on November 7th. It would take a month before they played their second game, another close lose to UCLA. The offense really picked it up to end the season, dropping 70 points on Arizona and 46 points on Oregon State.
2020 Record: 2-2, 2-2
2020 Bowl: None
Coach: Herm Edwards (17-13 at Arizona State, 17-13 overall)
Offensive Coordinator: Zak Hill
Defensive Coordinator: Antonio Pierce
Returning Leaders:
Rushing: Rachaad White, RB, 420 yards
Passing: Jayden Daniels, QB, 701 yards
Receiving: Rachaad White, RB, 151 yards
Tackles: Evan Fields, DB, 38
Sacks: Tyler Johnson, DL, 5.0
Interceptions: 5 tied with 1
Other Key Returnees: RB DeaMonte Trayanum, WR Geordon Porter, WR LV Bunkley-Shelton, OL Dohnovan West, LB Kyle Soelle, DB DeAndre Pierce, DB Timarcus Davis, DB Chase Lucas, P Michael Turk
Key Losses: None
Offense:
Jayden Daniels is a talented quarterback who can do plenty of damage with his arm and legs. Daniels threw for 701 yards and five touchdowns in those four games and added 223 yards and four more scores on the ground. He does need to be more consistent in the passing game, but he is slowly getting more experience and that should help. A developing wide receiver corps will help too. The group was young last season, but due to injuries and departures, were thrown into the fire in 2020. Geordon Porter and LV Bunkley-Shelton earned some valuable experience last year and there are high hopes for freshman Elijhah Badger and Utah transfer Bryan Thompson. The ground game was spectacular last season and with Rachaad White and DeaMonte Trayanum returning and a very talented offensive line, Arizona State will be able to rely heavily on the ground game. The hope is for a more balanced attack, but even if that does not work out, the ground game can carry the Sun Devils.
Defense:
The ASU defense led the Pac-12 in points allowed and led the nation in turnover margin. The secondary was not great last season, but the amount of talent may be the best in the Pac-12. Corners Chase Lucas and Jack Jones are experienced seniors. Safety Evan Fields led the team with 38 tackles and forced three fumbles. Aashari Crosswell and DeAndre Pierce are proven playmakers as well. Merlin Robertson and Darien Butler are entering their fourth seasons as starters. Linemen Jermayne Lole and Tyler Johnson highlight an experienced line that will look to get a little more pressure on the quarterback in 2021.
The Bottom Line:
Arizona State has a very good defense and a great running game. That is a great recipe for winning games. If the passing attack can take the next step, the Sun Devils could be in for a very special season. The toughest games in the conference slate come in a four-week span starting with an October 16th trip to Utah and ending with a November 13th trip to Washington. In-between is a home date with USC. Those three contests could decide the winner of the Pac-12 North.
Projected Bowl: Sun Bowl
2020 Team Stats:
Rushing Offense: 264.2 (7th in nation, 1st in conference)
Passing Offense: 194.2 (100, 11)
Total Offense: 458.5 (20, 1)
Scoring Offense: 40.2 (12, 1)
Rushing Defense: 183.2 (86, 9)
Pass Defense: 252.5 (92, 9)
Total Defense: 435.8 (91, 8)
Scoring Defense: 23.2 (32, 1)
Turnover Margin: 2.00 (1, 1)
Sacks Allowed: 1.50 (26, 4)