Butler Bulldogs
2021-2022 Overall Rank: #95
Conference Rank: #10 Big East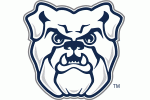 The Butler Bulldogs enter the 2021-22 season with an almost identical roster from last year. On the plus side, consistency and experience are extremely important in college basketball. However, the Bulldogs went just 10-15 last season, so more changes could have been needed. One change from last year is the healthy return of Aaron Thompson. Thompson will be a fifth-year senior and is the backbone of the Bulldogs roster. Butler also brings in a graduate transfer that averaged 15+ points last season. The Bulldogs aren't likely to challenge the top of the Big East, but should find themselves in the mix for an NCAA Tournament berth.
2020-21 Record: 10-15, 8-12
2020-21 Postseason: None
Coach: LaVall Jordan
Coach Record: 69-55 at Butler, 80-79 overall
Key Departed Players:
JaKobe Coles, Forward, 6.3 ppg
Key Returning Players:
Chuck Harris, Sophomore, Guard, 12.9 ppg
Bryce Nze, Senior, Forward, 11.4 ppg
Jair Bolden, Senior, Guard, 10.5 ppg
Bryce Golden, Senior, Forward, 10.4 ppg
Aaron Thompson, Senior, Guard, 10.4 ppg
Bo Hodges, Senior, Guard, 8.2 ppg
Myles Tate, Sophomore, Guard, 6.7 ppg
Christian David, Senior, Forward, 1.8 ppg
Myles Wilmoth, Sophomore, Forward, 1.7 ppg
John-Michael Mulloy, Junior, Forward, 0.4 ppg
Key New Players:
Ty Groce, Senior, Forward, Transfer from Eastern Michigan
D.J. Hughes, Freshman, Forward
Scooby Johnson, RS Freshman, Forward
Jayden Taylor, Freshman, Guard
Pierce Thomas, Freshman, Guard
Projection:
Butler returns everybody from last season's team who played in at least seven games. Five players averaged double figures and all five are back for this year. The most important returning member is Aaron Thompson. Thompson will be a fifth-year senior and is one of the better all-around point guards in the Big East. Thompson was limited to just 14 games last season, but his absence helped freshman Chuck Harris lead the Bulldogs in scoring. Harris earned All-Freshman honors in the Big East and should be even better as a sophomore. Bryce Nze, Jair Bolden and Bryce Golden also all return after each started at least 23 games last season. All three players are seniors, giving Butler one of the most experienced starting units in the nation. A full season from Bo Hodges could be an X-factor towards Butler's success this season. Hodges was limited to just nine games due to eligibility issues last season. Prior to joining Butler, Hodges was a First-team All-SoCon member in 2019-20 with 12.7 points and 5.8 rebounds per game. The Bulldogs also bring in Ty Groce, a graduate transfer from Eastern Michigan. Groce has started 70 games in his career and averaged 15.2 points and 6.9 rebounds last season. Butler also has four freshmen on the roster, including Scooby Johnson who redshirted last year. The Bulldogs had a down year last season, but have the experience and chemistry to strongly improve this season.
Projected Postseason Tournament: NIT
By the Numbers:
Scoring Offense: 63.5 (319th in nation, 11th in conference)
Scoring Defense: 68.7 (125, 4)
Field-Goal Percentage: 41.1 (298, 11)
Field-Goal Defense: 46.5 (293, 11)
Three-Point Field Goals Per Game: 7.2 (178, 6)
Three-Point Field-Goal Percentage: 32.3 (243, 7)
Free-Throw Percentage: 64.6 (320, 10)
Rebound Margin: -1.6 (241, 10)
Assists Per Game: 12.3 (228, 10)
Turnovers Per Game: 11.4 (55, 4)