East Tennessee State Buccaneers
Overall Rank: #30
#3 SoCon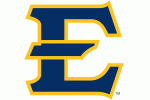 Following a disappointing 2019 campaign when East Tennessee State went 3-9, the spring season in 2021 started to show that the team has moved past that season. The Buccaneers finished the spring with a 4-2 record and a tough loss to Mercer ended up finishing their season and kept the team out of the playoffs.
2020-21 Record: 4-2, 4-2
2020-21 Postseason: None
Coach: Randy Sanders (15-15 at East Tennessee State, 15-15 overall)
Offensive Coordinator: Mike Rader
Defensive Coordinator: Billy Taylor
Returning Leaders:
Rushing: Quay Holmes, RB, 640 yards
Passing: Tyler Riddell, QB, 575 yards
Receiving: Will Huzzie, WR, 334 yards
Tackles: Jared Folks, LB, 50
Sacks: Donovan Manuel, LB, 3.5
Interceptions: Alijah Huzzie, DB, 3
Other Key Returnees: RB Jacob Saylors, WR Juliun Lane-Price, TE Nate Adkins, OL Tre'mond Shorts, DB Mike Price, DB Tyree Robinson, DL Max Evans, DB Karon Delince, K Tyler Keltner
Key Losses: None
Offense:
Tyler Riddell started the first three games at quarterback and Brock Landis started the last three games. Riddell was more efficient, completing 61 percent of his passes compared to 50 percent for Landis and Coach Randy Sanders at least has two experienced quarterbacks to call on now. Will Huzzie will likely be the favorite target of whoever is under center. He has now had two productive seasons at ETSU and the 6-3 wideout should be in for another fine season in 2021. Juliun Lane-Price stepped into a starting role in the spring and turned into a solid big play receiver. On the year he caught 14 passes for 224 yards and one touchdown. The offense will rely heavily on running back Quay Holmes. He rushed for over 1,000 yards in 2019 and finished the spring with 640 yards and eight scores. Jacob Saylors has been teaming up with Holmes since 2018 and is an experienced change of pace back who does a great job in that role.
Defense:
The ETSU defense played very well in the spring. The unit never allowed more than 21 points. Amazingly, they allowed at least 17 in each game. That is consistent. Donovan Manuel, Max Evans, Jalen Porter and Javion Heard all tallied at least a couple sacks last season and their ability to consistently get into the backfield is a big reason for their success. With just about everybody back, the Buccaneers defense could be even better during the 2021 season.
The Bottom Line:
We will not learn much about ETSU during their non-conference slate, but games against Vanderbilt, Virginia-Wise and Delaware State will give Coach Sanders a little time to work out any kinks. On paper, the toughest conference games come later too. On October 16th, East Tennessee State travels to Chattanooga and three weeks later they host VMI. This is a pretty balanced conference though and most games will be tough, but this is a team that has the depth and talent to remain competitive throughout the grind of the SoCon and be in the mix for a playoff berth.
Projected Postseason: None
2020-21 Team Stats:
Rushing Offense: 149.3 (43rd in nation, 6th in conference)
Passing Offense: 168.5 (72, 6)
Total Offense: 317.8 (66, 7)
Scoring Offense: 21.0 (57, 7)
Rushing Defense: 114.5 (20, 1)
Pass Defense: 173.3 (22, 2)
Total Defense: 287.8 (18, 2)
Scoring Defense: 18.8 (19, 1)
Turnover Margin: -0.33 (65, 6)
Sacks Allowed: 1.83 (36, 2)