Boise State Broncos
Overall Rank: #33
#1 Mountain West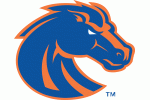 With Bryan Harsin moving to coach Auburn, Boise State grabbed former player and defensive coordinator Andy Avalos to lead the program. Coach Avalos played linebacker with the Broncos from 2001 to 2004 and coached on the defensive side of the ball from 2012 to 2018. He spent the last two seasons as the defensive coordinator at Oregon and now steps into what should be a very good situation in Boise.
2020 Record: 5-2, 5-0
2020 Bowl: None
Coach: Andy Avalos (0-0 at Boise State, 0-0 overall)
Offensive Coordinator: Tim Plough
Defensive Coordinator: Spencer Danielson
Returning Leaders:
Rushing: Andrew Van Buren, RB, 382 yards
Passing: Hank Bachmeier, QB, 1,150 yards
Receiving: Khalil Shakir, WR, 719 yards
Tackles: Riley Whimpey, LB, 61
Sacks: Shane Irwin, DL, 6.0
Interceptions: JL Skinner, S, 1; Tyric LeBeauf, CB, 1
Other Key Returnees: RB Devonte Lee, WR CT Thomas, OL John Ojukwu, OL Jake Steyz, LB Ezekiel Noa, DB Kekaula Kamiho,
Key Losses: CB Jalen Walker, DB Avery Williams
Offense:
Despite some offensive struggles, especially on the ground, Boise State still managed to lead the Mountain West with 33.9 points per game. Junior signal caller Hank Bachmeier is back after throwing for 1,150 yards and six touchdowns. Jack Sears should again provide some competition at quarterback after transferring in from USC prior to last season. Whoever is under center will have a ton of talent to work with. Khalil Shakir caught an impressive 52 passes for 719 yards and six touchdowns in seven games. CT Thomas is the big play threat. The passing game should be better once the Broncos have a running threat. That running threat should be George Holani, who rushed for over 1,014 yards in 2019 before missing nearly all of last year. Oregon transfer Cyrus Habibi-Likio is expected to grab some carries and Boise State returns last year's leading rusher Andrew Van Buren as well.
Defense:
Coach Avalos is a defensive minded coach so the hope is that he can quickly turn their fortunes around after an average season on that side of the ball in 2020. Shane Irwin and Scott Matlock will anchor a defensive line that hopes to be more aggressive in 2021. Linebacker Riley Whimpey is a good piece to build around in the middle of the defense, but there are issues in the secondary. Both cornerbacks are gone and there is no proven depth at safety. And that is all from a unit that only intercepted two passes last season.
The Bottom Line:
If the offense can be more explosive and the defense can create some turnovers, Boise State will be a tough team to beat. The schedule is tough though with non-conference games against UCF, Oklahoma State and BYU. The goal will be another Mountain West title and Boise State will be the favorites to do that and if all goes well, they will be competing for a spot in a New Year's Six Bowl as well.
Projected Bowl: LA Bowl
2020 Team Stats:
Rushing Offense: 107.1 (115th in nation, 12th in conference)
Passing Offense: 241.9 (49, 4)
Total Offense: 349,0 (98, 9)
Scoring Offense: 33.9 (27, 1)
Rushing Defense: 163.7 (63, 7)
Pass Defense: 209.6 (37, 5)
Total Defense: 373.3 (41, 6)
Scoring Defense: 27.1 (52, 6)
Turnover Margin: -0.57 (107, 10)
Sacks Allowed: 2.00 (48, 3)