Colgate Raiders
Overall Rank: #42
#2 Patriot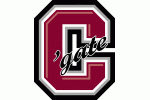 Colgate only played in two games during the spring season. They lost at Lafayette 24-10 and nearly a month later took a trip to Fordham and fell 40-8. Back in 2019, the Raiders fared better. After an 0-7 start, the team managed to win four of their last five games. Interim head coach Stan Dakosty will take over the program in 2021. The former Raiders defensive back has been coaching within the program since 2007.
2020-21 Record: 0-2, 0-2
2020-21 Postseason: None
Coach: Stan Dakosty (0-0 at Colgate, 0-0 overall)
Offensive Coordinator: Terry Dow, Brent Bassham
Defensive Coordinator: Paul Shaffner
Returning Leaders:
Rushing: Grant Breneman, QB, 90 yards
Passing: Grant Breneman, QB, 419 yards
Receiving: Garrett Oakey, WR, 128 yards
Tackles: Milton Braasch, LB, 13
Sacks: Jared Petrichick, LB, 1.0; Owen Rosenberger, DL, 1.0
Interceptions: William Gruber, DB, 1
Other Key Returnees: RB Max Hurleman, WR Myles Bradley, WR Joshua Szott, DB Collin Heard, LB Evan Jones
Key Losses: RB Malik Twyman, OL Jack Badovinac, DB Jordan Jefferson
Offense:
The main reason Colgate lost their two games in the spring was due to turnovers. Quarterback Grant Breneman threw five interceptions and no touchdowns. Back in 2019, he threw for 1,588 yards and five touchdowns. He also was intercepted five times during that year, but that was in ten appearances. Garrett Oakey has been the team's top receiving threat. In 2019 he caught 58 passes for 736 yards. Myles Bradley and Joshua Szott started to get some experience last season and each caught six passes total in the two spring games. Breneman rushed for 45 yards per game in the spring and Colgate will need a running back to step up and carry the load. Max Hurleman showed some promise though and is first in line to take over the job. He only got two carries in the team's first game in the spring, but against Fordham he got 10 carries for 42 yards.
Defense:
Colgate's defense did not put up great numbers in their two spring games, but this should be an improved unit. They are very strong at linebacker, led by Milton Braasch, who recorded 76 tackles in 2019. J.C. Gaughan only played in one game in the spring, but was a regular starter in 2019. Jared Petrichick is also an experienced option and Evan Jones picked up some valuable experience in the spring. The Raiders will need to get to the quarterback more consistently though and much of that will fall on Coleman Coco, who ranked second on the team with 4.0 sacks in 2019.
The Bottom Line:
Obviously, the spring 2021 season was a write-off for a team that only played two games. Colgate finished the 2019 campaign in a good place though and despite all of the changes to the staff, the Raiders will look to build off that late 2019 success in 2021.
Projected Postseason: None
2020-21 Team Stats:
Rushing Offense: 93.5 (83rd in nation, 2nd in conference)
Passing Offense: 211.5 (43, 3)
Total Offense: 305.0 (69, 3)
Scoring Offense: 9.0 (94, 5)
Rushing Defense: 125.0 (29, 5)
Pass Defense: 221.5 (62, 4)
Total Defense: 346.5 (41, 6)
Scoring Defense: 32.0 (77, 6)
Turnover Margin: -3.00 (97, 6)
Sacks Allowed: 1.5 (22, 2)