Sacred Heart Pioneers
Overall Rank: #43
#2 NEC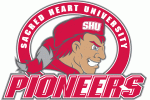 Sacred Heart returned to the playoffs in the spring season of 2021 for the first time since 2014. The Pioneers put up a good fight at Delaware in the first round, but lost 19-10. Coach Mark Nofri will hope to ride that momentum into the fall version of the 2021 campaign.
2020-21 Record: 3-2, 2-1
2020-21 Postseason: None
Coach: Mark Nofri (54-43 at Sacred Heart, 54-43 overall)
Offensive Coordinator: Matt Gardner
Defensive Coordinator: Mike Cooke
Returning Leaders:
Rushing: Julius Chestnut, RB, 855 yards
Passing: Marquez McCray, QB, 859 yards
Receiving: Naseim Brantley, WR, 201 yards
Tackles: DeAndre Byrd, LB, 37
Sacks: Rayshad Wallace, DL, 3.0
Interceptions: Randy Brito, CB, 2
Other Key Returnees: WR Kenneth Womack, OL JD DiRenzo, OL Josh Sokol, LB Chris Outterbridge, S Shamere Collins, DL Kevin Peprah, DT Omar Fraser, CB Lamar Evans, P Noah Gettman
Key Losses: None
Offense:
All 11 starters are back for a team that ranked first in the conference in scoring offense and second in total offense. It all starts with running back Julius Chestnut, who rushed for 855 yards and nine touchdowns in those five games in the spring. In 2019, the 6-1, 215 pound back tallied 1,513 yards on the ground. With a running back like Chestnut, Sacred Heart does not need a spectacular passing attack. Quarterback Marquez McCray proved to be a good fit last year, completing 65.1 percent of his passes for seven touchdowns and just four interceptions. The Pioneers lacked a go-to-receiver last year. Five players caught at least eight passes for at least 100 yards, but Naseim Brantley led the way with just 14 catches for 201 yards.
Defense:
The defense returns ten starters and is full of experienced graduate students. The front four was very strong against the run, but was not so successful getting into the backfield. Players like Chase Bradley, Kevin Peprah and Rayshad Wallace will be tasked with increasing Sacred Heart's unimpressive 1.40 sacks per game from the spring. DeAndre Byrd will man the middle of the defense after leading the team with 37 tackles. He will be flanked yet again by outside linebackers Alaam Horne and Chris Outterbridge. The pass defense had their moments last year, but there is still room for improvement. Randy Brito is a talented young playmaker at cornerback and his development could help improve the secondary.
The Bottom Line:
The big games will come in late October when the Pioneers host Central Connecticut State and Duquesne. CCSU did not play in the spring but is expected to have a strong team in 2021 and Duquesne will be looking for some revenge after the undefeated Dukes lost to Sacred Heart in the conference championship game. Those two games could very well decide the winner of the NEC.
Projected Postseason: None
2020-21 Team Stats:
Rushing Offense: 207.8 (13th in nation, 1st in conference)
Passing Offense: 175.6 (65, 2)
Total Offense: 383.4 (29, 2)
Scoring Offense: 26.4 (29, 1)
Rushing Defense: 115.6 (21, 2)
Pass Defense: 176.8 (26, 4)
Total Defense: 292.4 (20, 2)
Scoring Defense: 18.4 (16, 3)
Turnover Margin: 0.20 (38, 3)
Sacks Allowed: 2.80 (74, 5)