Georgia State Panthers
2021-2022 Overall Rank: #117
Conference Rank: #1 Sun Belt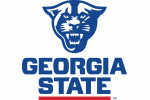 Georgia State has had success under Coach Rob Lanier. Two years ago in his debut season, the Panthers went 19-13 overall. Last season the Panthers finished 16-6 overall and won the Sun Belt East with an 8-4 mark. Georgia State missed out on the NCAA Tournament last year though, losing to Appalachian State in the conference tournament final. But with all five starters returning and plenty of depth, this could be the year the Panthers return to the NCAA Tournament.
2020-21 Record: 16-6, 8-4
2020-21 Postseason: None
Coach: Rob Lanier
Coach Record: 35-19 at Georgia State, 93-89 overall
Key Departed Players:
Ryan Boyce, Guard, 5.1 ppg
Jojo Toppin, Guard, 4.9 ppg
Key Returning Players:
Corey Allen, Senior, Guard, 15.0 ppg
Justin Roberts, Senior, Guard, 13.2 ppg
Kane Williams, Senior, Guard, 12.9 ppg
Eliel Nsoseme, Senior, Forward, 11.7 ppg
Jalen Thomas, Junior, Forward, 10.1 ppg
Evan Johnson, Sophomore, Guard, 7.3 ppg
Collin Moore, Sophomore, Guard, 4.5 ppg
Kaleb Scott, Sophomore, Forward, 2.4 ppg
Kalik Brooks, Junior, Guard, 0.8 ppg
Zach Pina, Junior, Guard, 0.5 ppg
Joe Jones III, Sophomore, Center, dnp last season
Nelson Phillips, Junior, Guard, dnp last season
Key New Players:
Jamall Clyce, Freshman, Forward
Ja'Heim Hudson, Freshman, Forward
Chien-Hao Ma, Freshman, Forward
Jordan Rawls, Junior, Guard, Transfer from Western Kentucky
Danny Stubbs, Freshman, Guard
Projection:
The Georgia State backcourt is loaded with proven players who can do it all. Corey Allen led the team with 15.0 points per game and connected on an impressive 42.5 percent of his 146 attempts from beyond the arc. Remember they only played 22 games, so that is a lot of three-pointers. Justin Roberts and Kane Williams are capable outside shooters too, but those two are also great passers and play solid defense. Eliel Nsoseme and Jalen Thomas will again round out the dangerous starting five. Nsoseme is a beast on the glass and averaged 10.1 rebounds per game. Both are solid shot blockers too. It is not often a team returns five starters who averaged double digits in the scoring department. Center Joe Jones III and guard Nelson Phillips were major contributors two years ago but missed last year with injuries. Jones III especially will add some much-needed frontcourt depth. Evan Johnson and Collin Moore will be the shooters off the bench again in 2021-2022, but Moore certainly struggled at times last season. The addition of Jordan Rawls will make minutes in the backcourt tough to come by, but Coach Lanier now has a whole slew of options and this group has the talent and the depth to win the Sun Belt.
Projected Postseason Tournament:
NCAA
By the Numbers:
Scoring Offense: 80.3 (19th in nation, 1st in conference)
Scoring Defense: 72.7 (239, 11)
Field-Goal Percentage: 46.8 (47, 1)
Field-Goal Defense: 41.3 (62, 3)
Three-Point Field Goals Per Game: 8.1 (91, 4)
Three-Point Field-Goal Percentage: 35.8 (75, 4)
Free-Throw Percentage: 68.5 (242, 11)
Rebound Margin: 0.5 (164, 9)
Assists Per Game: 16.8 (12, 1)
Turnovers Per Game: 11.6 (66, 1)