New Orleans Privateers
2021-2022 Overall Rank: #133
Conference Rank: #1 Southland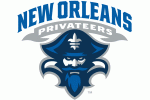 After a couple of down seasons, New Orleans is ready for a bounce back year. The Privateers finished 10-15 overall last season and 9-21 the previous campaign. Coach Mark Slessinger returns four key pieces from last year's team and did a great job picking up some transfers to help fill the holes. With many teams leaving the Southland Conference, this could be UNO's opportunity to return to the NCAA Tournament for the first time since 2017.
2020-21 Record: 10-15, 8-7
2020-21 Postseason: None
Coach: Mark Slessinger
Coach Record: 157-188 at New Orleans, 157-188 overall
Key Departed Players:
Damien Rosser, Guard, 15.7 ppg
Lamont Berzat, Guard, 5.5 ppg
Ahren Freeman, Forward, 5.7 ppg
LaDarius Marshall, Forward, 4.7 ppg
Key Returning Players:
Troy Green, Senior, Guard, 15.4 ppg
Derek St. Hilaire, Senior, Guard, 12.3 ppg
Rodney Carson Jr, Sophomore, Guard, 8.1 ppg
Jahmel Myers, Junior, Forward, 4.6 ppg
Kmani Doughty, Freshman, Guard, 3.8 ppg
D'Ante Bell, Freshman, Forward, 2.8 ppg
Key New Players:
De'Sean Allen-Eikens, Sophomore, Guard, Transfer from North Dakota
Tyson Jackson, Sophomore, Forward, Transfer from Middle Tennessee
Simeon Kirkland, Junior, Forward, Transfer from UAB
Robby Robinson, Junior, Forward, Transfer from Nevada
Daniel Sackey, Junior, Guard, Transfer from Valparaiso
Jamond Vincent, Freshman, Guard
Darrius Washington, Freshman, Forward
Norris Williams, Freshman, Guard
Projection:
Troy Green is the team's top returning scorer after averaging 15.4 points, 2.5 assists and 5.6 rebounds last season. The 6-3 senior is not a shooter, but obviously he is very effective when attacking the basket. Fellow senior guard Derek St. Hilaire is the shooter on this team. He easily led the team with 57 made three-pointers last season. Sophomore Rodney Carson Jr. had a solid freshman season, averaging 8.1 points per game and should again step into the starting lineup. Jahmel Myers started 18 games during his sophomore season and the 6-6 forward will be looked to anchor the new look frontcourt. He will have plenty of help from a trio of frontcourt transfers. Robby Robinson from Nevada and Simeon Kirkland from UAB are expected to make an immediate impact and sophomore Tyson Jackson has potential. The backcourt adds a couple new pieces too. Daniel Sackey spent a couple seasons at Valparaiso where he averaged 5.3 points and 3.9 assists last year. De'Sean Allen-Eikens is perhaps the most proven newcomer for the Privateers. Two years ago, he averaged 13.8 points per game as a freshman at North Dakota. If Coach Slessinger can get all these pieces working together, New Orleans has the talent to win the Southland.
Projected Postseason Tournament:
NCAA
By the Numbers:
Scoring Offense: 78.0 (64th in nation, 5th in conference)
Scoring Defense: 76.4 (293, 9)
Field-Goal Percentage: 47.6 (28, 3)
Field-Goal Defense: 45.3 (256, 7)
Three-Point Field Goals Per Game: 5.5 (315, 11)
Three-Point Field-Goal Percentage: 32.9 (216, 10)
Free-Throw Percentage: 73.7 (74, 1)
Rebound Margin: -0.3 (188, 6)
Assists Per Game: 15.6 (42, 4)
Turnovers Per Game: 16.8 (334, 12)