Sam Houston Bearkats
2021-2022 Overall Rank: #141
Conference Rank: #2 WAC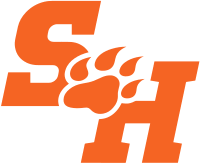 Coach Jason Hooten has turned Sam Houston into a very consistent team. The Bearkats have finished above .500 in Southland play in each of the last eight seasons, including a 13-3 mark last year. Despite all of that success, the Bearkats have yet to reach an NCAA Tournament under Coach Hooten. But with four starters returning and some talented newcomers entering the mix, this could be the year for SHSU to finally make an NCAA Tournament.
2020-21 Record: 19-9, 13-3
2020-21 Postseason: None
Coach: Jason Hooten
Coach Record: 200-141 at Sam Houston State, 200-141 overall
Key Departed Players:
Zach Nutall, Guard, 19.3 ppg
Bryce Monroe, Guard, 10.1 ppg
Manny Crump, Forward, 4.0 ppg
Terryonte Thomas, Guard, 2.2 ppg
Dylan Robertson, Forward, 2.6 ppg
Key Returning Players:
Demarkus Lampley, Senior, Guard, 14.6 ppg
Javion May, Junior, Guard, 3.9 ppg
Tristan Ikpe, Junior, Forward, 7.4 ppg
Donte Powers, Junior, Guard, 7.5 ppg
Jarren Cook, Freshman, Guard, 6.3 ppg
Kian Scroggins, Freshman, Forward, 3.0 ppg
Key New Players:
Giovanni Emejuru, Freshman, Forward/Center, JC Transfer
Savion Flagg, Senior, Guard/Forward, Transfer from Texas A&M
Kuba Karwowski, Senior, Center, Transfer from Utah State
Damon Nicholas Jr, Freshman, Guard
Jaden Ray, Junior, Guard, JC Transfer
Projection:
Demarkus Lampley will be the new leader of the backcourt after averaging 14.6 points last season. Lampley is a superb outside shooter and hit 39.9 percent of his 193 attempts from beyond the arc. Point guard Donte Powers added 7.5 points per game and Jarren Cook proved to be a very dangerous shooter during his freshman campaign. Tristan Ikpe is the most experienced frontcourt returning player. The 6-6 junior may be a little undersized, but he is tough on the glass and a consistent interior scorer. The frontcourt does need some help though and SHSU hopes to get it from Utah State transfer Kuba Karwowski. The 7-2 center never made much of an impact with the Aggies, but he is a massive presence in the paint and will change the game for the Bearkats whenever he is on the floor. But the more exciting newcomer is Savion Flagg. The 6-7 wing spent four seasons at Texas A&M. His numbers dipped last year, but back in 2018-2019, Flagg averaged 13.9 points, 7.7 rebounds and 2.3 assists. Flagg can take this team a long way, and with some help from Lampley, Sam Houston State has the talent to have another very successful season.
Projected Postseason Tournament: CBI/CIT
By the Numbers:
Scoring Offense: 79.6 (26th in nation, 3rd in conference)
Scoring Defense: 70.3 (182, 2)
Field-Goal Percentage: 45.3 (93, 5)
Field-Goal Defense: 42.2 (110, 2)
Three-Point Field Goals Per Game: 9.1 (32, 1)
Three-Point Field-Goal Percentage: 35.7 (81, 4)
Free-Throw Percentage: 69.2 (224, 6)
Rebound Margin: -0.4 (191, 7)
Assists Per Game: 15.5 (45, 5)
Turnovers Per Game: 14.4 (247, 5)