Miami RedHawks
2021-2022 Overall Rank: #142
Conference Rank: #6 Mid-American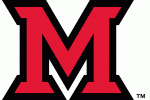 It took until year four of the Coach Jack Owens era for Miami to record a winning a record. And even then, the RedHawks barely finished above .500 both overall and in Mid-American Conference play. But unlike most teams this season, Miami returns just about entirely intact. All five starters and the top four reserves in terms of minutes are back. That is a continuity that few other teams can match.
2020-21 Record: 12-11, 9-8
2020-21 Postseason: None
Coach: Jack Owens
Coach Record: 56-65 at Miami, 56-65 overall
Key Departed Players:
Josh Brewer, Forward, 1.6 ppg
Milos Jovic, Guard, 1.0 ppg
Key Returning Players:
Dae Dae Grant, Junior, Guard, 13.7 ppg
Dalonte Brown, Senior, Forward, 13.5 ppg
Mekhi Lairy, Senior, Guard, 12.8 ppg
Myia White, Junior, Guard, 5.9 ppg
Precious Ayah, Senior, Forward, 3.2 ppg
Isaiah Coleman-Lands, Senior, Guard, 7.8 ppg
James Beck, Senior, Forward, 7.1 ppg
Eli McNamara, Senior, Forward, 3.7 ppg
Javin Etzler, Sophomore, Forward, 3.1 ppg
Jackson Ames, Sophomore, Center, 1.4 ppg
Luka Eller, Sophomore, Forward, 1.2 ppg
Key New Players:
Kamari Williams, Junior, Forward, Transfer from Boston College
Marr Avance, Freshman, Guard
Curtis Harrison IV, Freshman, Forward
Projection:
Dae Dae Grant and Mekhi Lairy return to lead the backcourt. Both shot at least 41.0 percent from beyond the arc and are capable of filling up the score sheet in a hurry. Myja White is not the volume scorer like Grant and Lairy, but he is an efficient shooter. Isaiah Coleman-Lands will once again add a quality scoring threat off the bench after averaging 7.8 points and 3.0 assists last season. The star in the frontcourt is 6-7 senior Dalonte Brown. He tallied 13.5 points and a team high 7.4 rebounds. Precious Ayah, Eli McNamara and James Beck all started at least eight games last season so there is plenty of experience and depth. However, none of them really stepped up and turned into a great option to start beside Brown. Coach Owens will look to Boston College transfer Kamari Williams to help fill that role. If he does, Miami could be in a great position to make a push up the MAC standings. Even if Williams struggles to do more than make the rotation, this is a group that has the experience they need to have their best season yet under Coach Owens.
Projected Postseason Tournament: CBI/CIT
By the Numbers:
Scoring Offense: 72.3 (141st in nation, 9th in conference)
Scoring Defense: 71.6 (208, 2)
Field-Goal Percentage: 43.7 (189, 8)
Field-Goal Defense: 44.8 (230, 9)
Three-Point Field Goals Per Game: 8.6 (58, 3)
Three-Point Field-Goal Percentage: 36.5 (53, 2)
Free-Throw Percentage: 77.6 (23, 3)
Rebound Margin: -0.5 (194, 6)
Assists Per Game: 12.1 (242, 8)
Turnovers Per Game: 10.8 (24, 2)