How College Football is shaping up following post-spring practices
The new College Football season isn't really that far away now, and we've now just passed the post-spring practice. There were many changes to the top line ups around the country with the NFL Draft having seen some NFL Franchises picking the ripest players of the bunch from College Level, who will be ready to make their mark in the great American sport.
One of the biggest losses for any team was the Clemson Tigers, whose star quarterback Trevor Lawrence was drafted as first pick by the Jacksonville Jaguars. But whilst many top players were picked up, there were also some surprises with players not leaving and choosing to stay another year at college football leve. Some students even took advantage of the transfer portal to move teams and colleges. The question is, how will it shape things up for the season ahead?
It won't be a surprise to many, that places like BetMGM have Alabama tipped to be favorites for the upcoming season. They finished the last season at the top of the Power Rankings, after they went on to brush aside Ohio State to win the championship. And whilst there are plenty of changes afoot at College Level Football, they always have been a top performing team and have an excellent coaching staff led by Nick Saban that knows how to get the best out of players.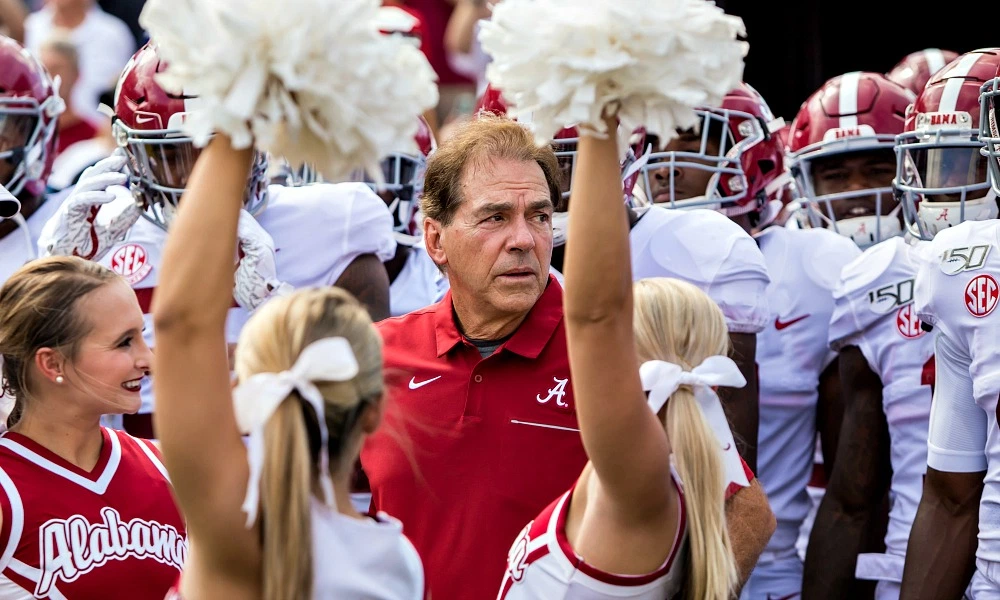 But before we talk too much about what to expect in the upcoming season, let's just check out those Power Rankings top 25 following the post-spring practice.
College Football Top 25 Power Rankings - Post-spring
Alabama Crimson Tide
Previous Position: 1


Movement: No Change

Oklahoma Sooners
Previous Position: 3


Movement: Up 1 Place

Ohio State Buckeyes
Previous Position: 5


Movement: Up 2 Places

Clemson Tigers
Previous Position: 4


Movement: No Change

Georgia Bulldogs
Previous Position: 2


Movement: Down 3 Places

Iowa State Cyclones
Previous Position: 6


Movement: No Change

Cincinnati Bearcats
Previous Position: 9


Movement: Up 2 Places

Texas A&M Aggies
Previous Position: 7


Movement: Down 1 Place

Notre Dame Fighting Irish
Previous Position: 8


Movement: Down 1 Place

Florida Gators
Previous Position: 10


Movement: No Change

LSU Tigers
Previous Position: 15


Movement: Up 4 Places

North Carolina Tar Heels
Previous Position: 11


Movement: Down 1 Place

Wisconsin Badgers
Previous Position: 14


Movement: Up 1 Place

Oregon Ducks
Previous Position: 13


Movement: Down 1 Place

Iowa Hawkeyes
Previous Position: 18


Movement: Up 3 Places

Penn State Nittany lions
Previous Position: 16


Movement: No Change

Indiana Hoosiers
Previous Position: 12


Movement: Down 5 Places

Miami (Florida) Hurricanes
Previous Position: 19


Movement: Up 1 Place

Southern California Trojans
Previous Position: 17


Movement: Down 2 Places

Arizona State Sun Devils
Previous Position: 21


Movement: Up 1 Place

Oklahoma State Cowboys
Previous Position: 23


Movement: Up 2 Places

Texas Longhorns
Previous Position: 20


Movement: Down 2 Places

Coastal Carolina Chanticleers
Previous Position: 24


Movement: Up 1 Place

Washington Huskies
Previous Position: NR


Movement: No Movement

Louisiana-Lafayette Ragin' Cajuns
Previous Position: NR


Movement: No Movement
As we said, the Power Rankings are no surprise to many, with the Crimson Tide sitting on top of the perch. But there will be those looking to knock them off. However, it won't be easy because despite changes, Alabama has some good talent coming through. Bryce Young will slot right in to succeed Mac Jones at quarterback, whilst John Metchie III is looking like he is in the form of his life playing wide receiver.
But if the Crimson Tide is to be stopped this year, who could do it?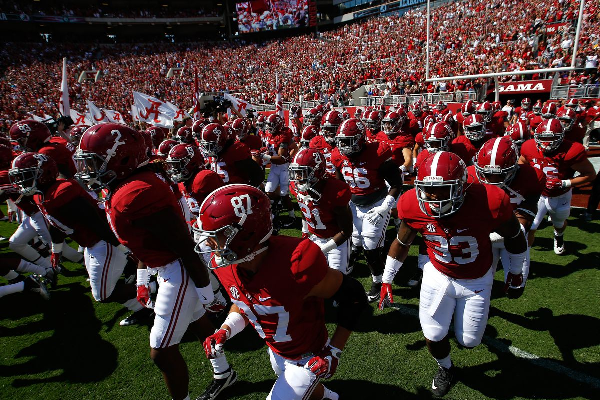 The Main Challengers
The first thing that could trip up the Crimson Tide isn't another team, but the effects of a gruelling schedule ahead of them, facing the likes of Florida, Texas A&M and Auburn on the road. All are capable teams that each have their own star players and consistently challenge at the top of the Power Rankings. So they could easily take a win off the Tide, especially if they are having an off day in defence, or the opposition are able to stop their offensive line from breaking through.
One of the main favorites to contend for the championship this coming season, and a team that ESPN has first in their own Power Rankings, are the Oklahoma Sooners. Whilst they didn't have a perfect record last year, they did finish 9-2, and whilst key players have moved on such as running back Rhamondre Stevenson, wide receiver Charleston Rambo and offensive tackle Adrian Ealy, they have respective replacements for each in Kennedy Brooks, Mario Williams Jr. and Savion Byrd.
The one thing that could upset the Sooners though? Their own mentality. It has been 21 years since they last won a National Championship. They've come close a couple of times but always fall at one of the hurdles put in front of them. And sometimes a curse like that can have a psychological impact on a team.
That said, they do have a much more favorable schedule than Alabama so it is possible that with their strong offense, if the defensive line can do their job, coach Lincoln Riley could take them all the way. But it won't be an easy task with many top sides around this season.